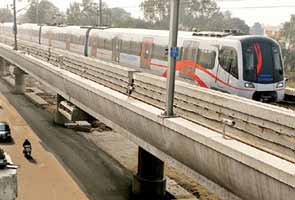 New Delhi:
Delhi's showcase Airport Metro Express would be back on track after being shut for six months, but it won't be a high-speed corridor as envisaged with the Commissioner of Metro Rail Safety today granting the nod for operations with a reduced speed of 50 km per hour.
The speed will be reduced from 105 km per hour at which the trains ran for over a year, raising questions yet again on the construction of the corridor which is the first public- private-partnership Metro project in India.
There was no word on when the line would open.
An 18-20 minute journey from New Delhi Railway Station to the Terminal 3 of IGI Airport will hitherto take at least 30 to 35 minutes, effectively failing the purpose of a high-speed corridor.
After a two-day inspection on Tuesday and Wednesday, CMRS R K Kardam gave the much-awaited nod this evening in a letter sent to the Delhi Metro and Reliance Infrastructure for resumption of services on the 23-km high-speed line.
However, he drastically reduced the speed of trains on the corridor to 50 km per hour from the 105 km per hour formula on which trains were run before the Line was shut down on July 8, 2012. Originally, the Delhi Metro and Reliance Infra promised a speed of 120 km per hour.
The reduction of speed comes as a big blow for both Delhi Metro and Reliance Infra which have been claiming that trains can be run at a maximum of 120 km per hour.
The corridor was shut after Reliance Infra complained to the Delhi Metro that cracks have been noticed on civil structures of the corridor. Delhi Metro completed the civil structure and handed it over to Reliance Infra for operations in 2010.
Problems were also noticed in the clippings used in the underground section of the corridor.
Reliance Infra refused to comment on the development.
The line has always been in news, mostly for wrong reasons, as its opening was delayed by five months after it missed the Commonwealth Games deadline.
The closing down of the corridor also prompted a turf war between the Delhi Metro and Reliance Infra which wanted to quit the corridor.
Get Breaking news, live coverage, and Latest News from India and around the world on NDTV.com. Catch all the Live TV action on NDTV 24x7 and NDTV India. Like us on Facebook or follow us on Twitter and Instagram for latest news and live news updates.