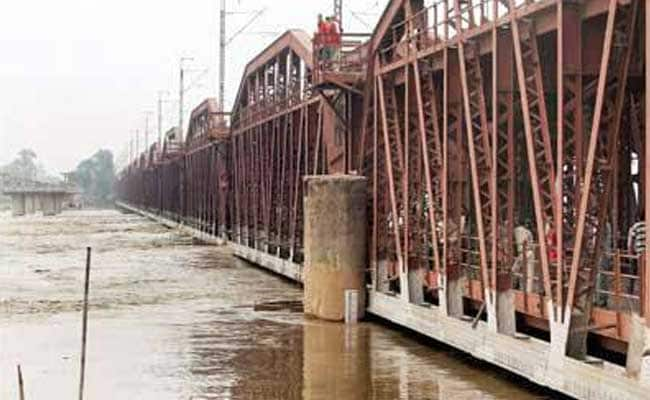 New Delhi:
Concerned over the increasing encroachment on the Yamuna floodplains here, an environment activist today moved the National Green Tribunal against the operation of concrete plant by an engineering and construction company here.
The activist has alleged that the firm has violated the green panel's order which had prohibited any kind of construction activity on the flood plains on the river.
The plea filed by Manoj Mishra of Yamuna Jiye Abhiyaan has sought a stay and imposition of fine on the ongoing constructions on the floodplains that has taken place on the river bed in violation of the tribunal's January 13 judgment.
"Despite the clear direction of this tribunal barring any new constructions (temporary or permanent) in floodplain of Yamuna, the activities of leveling of the flood plain and operation of batching plants are going on opposite Mayur Vihar Phase I in the east bank and opposite Sarai Kale Khan in West Bank and, respectively, by private parties," the plea, filed through advocate Rahul Choudhary, said.
"On September 18, during the meeting held in the Chambers of the Chairman of the Principal Committee, set up to review the progress made by the DDA in implementation of the NGT orders, the matter was again brought to the attention of the chairman.
"It is brought to the attention of this tribunal that during the meeting, DDA agreed that it had made the allotment to M/s Larsen & Toubro. It is further brought to the attention of this tribunal that the UP Irrigation Department, however, reported that the said construction work was going on without any allotment or approval," the plea said.
Mr Mishra has said that he also noticed dumping of soil on the river bed along the alignment of the proposed phase III extension of the Barapula elevated road across the river from Ring Road to Mayur Vihar here.
"The planned elevated bridge cum road would irreversibly change the drainage pattern of the river bed and inhibit the free flow of the river," Mishra has said.
The tribunal on January 13 had banned dumping of construction material into Yamuna while imposing a fine of Rs 50,000 on violators, and also restrained real estate developers from carrying out any construction work.