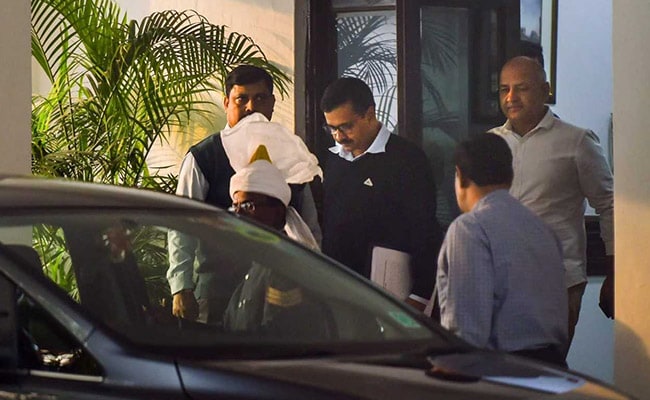 New Delhi:
The AAP Friday accused the Delhi Police of acting like a bully at the behest of the Centre by entering Chief Minister Arvind Kejriwal's residence "illegally" and said the action was aimed at "insulting and humiliating" him.
The party's sharp reaction came after the police went to Mr Kejriwal's residence saying its demand for the CCTV footage of the alleged incident of assault on Chief Secretary Anshu Prakash by AAP MLAs had not been met.
AAP leader Ashutosh claimed the police had initially requested the video from the PWD department but did not take it.
Without taking the name of BJP and its leaders, AAP lawmaker Sanjay Singh said it is "unfortunate" that some "dictators" and people with a mentality of "hooligans" have captured power, be it Gujarat, Haryana, Maharashtra, Rajasthan or Madhya Pradesh.
"The
dadagiri
by the Delhi Police at Arvind Kejriwal's residence is being done at the behest of the BJP. The Delhi Police is a mere puppet but the Centre is resorting to such
dadagiri
to dismiss the Delhi government," Singh said.
Equating the Delhi Police with "Dhristashtra" the blind king in epic Mahabharata, who did not stop his sons from disrobing Draupadi in his royal court, Mr Singh said the law and order enforcement agency has not even bothered to take action in cases involving assault on Delhi minister Imran Hussain and Delhi Dialogue Commission vice-chairman Ashish Khetan.
Squarely blaming the Centre, Mr Singh tweeted, "Without Modi government's directive, the police could not have indulged in such
dadagiri
."
He said that the AAP will protest outside district headquarters and state capital headquarters to protest the sending of police team to the Delhi chief minister's residence.
In a press conference, the AAP also showed a two-and-half-minute clip where senior police officials are seen inside the residence of the chief minister, purportedly asking questions about the wall paint of the room.
"The police team went inside the chief minister's residence only to humiliate and insult him (Arvind Kejriwal)," AAP leader Ashutosh told reporters.
Terming the entry of the Delhi Police as illegal, J S Joon, AAP counsel, who is the defence lawyer for party MLAs Amantullah and Prakash Jarwal, arrested for allegedly assaulting the chief secretary, said there should have been a prior notice before entering the residence of the chief minister.
"Such questions (on details of painting done at the chief minister's residence) are ridiculous and preposterous," said Joon.