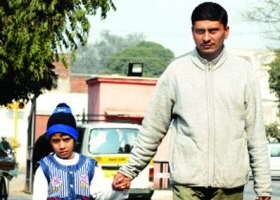 New Delhi:
On Monday Delhi government reaffirmed that private schools will have to follow guidelines for reserving 25 percent of total seats for economically weaker section (EWS) and will act if complaints about non-compliance are brought before it.
That, however, has changed little for Gaurav Abrol. For parents of the seven-year-old, getting their mentally disabled son educated is proving to be a big drain on their financial resources thanks to the sheer callousness of the school authorities.
Gaurav had secured admission at Kulachi Hansraj Model School, Ashok Vihar, in 2010 under both disabled and Economically Weaker Section (EWS) categories. He is 60 per cent disabled as he has been diagnosed with Cerebral Palsy (with Spastic Quadriparesis and Mental Retardation) and studies in Manovikas Kendra, a wing for the disabled in the school. His father is a driver with a private agency.
According to Section 3 (2) of RTE Act, 2009, it is mandatory for every school to provide free education to children belonging to the economically weaker sections and disadvantaged group. So as per the law, Gaurav should have been exempted from paying the fee. But that is not the case.
"At the time of admission, I had mortgaged some gold to pay for the seat and the school authorities had promised exemption of fee afterwards. I have repeatedly visited the school with all necessary documents in the last three months for the exemption, which is Rs 6611 for a quarter (three months) but the school has not paid any heed to my pleas. I am barely managing to pay the money now." said Kamal, Gaurav's father.
Kamal then filed a complaint with the Delhi Commission for Protection of Child Rights (DCPCR) alleging that the school authorities were violating RTE rules as they had not exempted his son, a student of class I, who is 60 per cent disabled and falls in the EWS category as well, from paying the fee. MID DAY has a copy of the complaint.
Taking note of the matter, the commission has sent a notice to the institution. "The denial of benefit under EWS quota to the son of the complainant is violative of the orders of the Supreme Court of India, passed on the subject, since the name of the school figures in the list of schools allotted land by government," the DCPCR notice said.
"We have already sent a word to the school authorities in this case. Also, the commission would like to have an Action Taken Report on the subject which should include the list of children, class-wise, granted the benefit of freeship (free education) under disabled and EWS category in the three preceding years and this year along with the total enrolment in each class," said MM Vidyarthi, member, DCPCR.