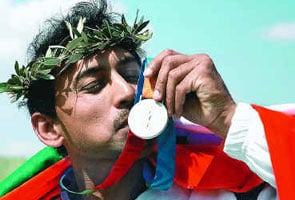 New Delhi:
Athens Olympics silver medallist Rajyavardhan Singh Rathore will not part be a part of the Indian shooting team at the Commonwealth Games as he stands disqualified for selection after missing the trials.
It was not known why Rathore missed the trials, appearing in which was necessary to be considered for selection.
Leading shooters like Beijing Olympic gold medallist Abhinav Bindra and Gagan Narang, who has already booked a berth in the 2012 London Olympics, had all appeared in the three-day trials in Pune.
The national selection meeting will be held here tomorrow and Rathore, a double trap shooter, is sure to miss the cut.
"Since he did not turn up at the trials, he stands disqualified for selection. He has not spoken to us why he missed it," National Rifle Association of India secretary Rajeev Bhatia told PTI.
The NRAI had made it clear that only those shooters will be considered for selection who will appear in trials.
National coach Sunny Thomas said it was important for Rathore to put up a good show at trials since his average score in international event was not good enough.
"I also don't know why he did not come. His scores since February were not good and it was important for him to do well at trials and be eligible for selection," Thomas said.
Rathore, meanwhile, wrote on his twitter page about his missing the trails but did not give the reason.
"I am not taking part in trials, however my full support to team India," he tweeted in response to a good luck message.