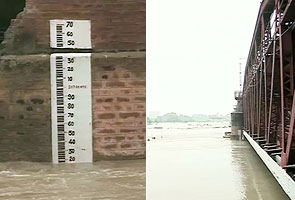 New Delhi:
The threat of flood continued to loom large over the national Capital as the water level in river Yamuna reached to 206.83 meters, which is two meters above the danger mark of 204.83.
According to authorities, the water level may touch 207.30 meters on Thursday evening which would be 2.47 meters above the danger mark.
"It will keep on rising and is likely to touch 207.30 meters on Thursday," said a senior official of Flood and Irrigation Department.
The Old Yamuna Bridge, connecting east Delhi with the heart of the national Capital, was shut for rail and road traffic on Tuesday after the water level in Yamuna rose dangerously.
Railways stopped train services on the old Yamuna bridge at around 3 am on Tuesday and are diverting all the trains bound for Old Delhi Railway Station and towards the eastern part of the country through other routes, a railway official said.
Twenty-seven local trains have been cancelled while 58 short distance trains like Farakka, Padmavati, Howrah Janata, Ranikhet and Lal Quila Express have been diverted.
The closure of the bridge resulted in diversion of traffic to a highway linking Delhi with Uttar Pradesh, which resulted in further choking of roads.
The water level in Yamuna has gone up after Haryana released 7.5 lakh cusec of water into it on Monday, the highest discharge in last 100 years on a single day.
Fearing a flood-like situation, Delhi Government appealed to people living in low-lying areas to move to safer places and alerted the authorities concerned to remain "extremely vigilant" in monitoring the situation.
Haryana had released a total of 6.53 lakh cusec of water into Yamuna on Sunday.
The government has already shifted hundreds of people from Garhi Mandu, Usmanpur Pusta, Jagatpur Village and Shastri Nagar to relief camps. Over 3500 people who shifted to relief camps set up by the government following flood-threat last week are already staying there.
Flood Control Minister Raj Kumar Chouhan said booster pumps have been installed in several areas along the river to pump out the water. However, he said, there is no threat to the Games Village even if the water level rises further.
The water level in Yamuna had touched 206.78 meters on September 11 following huge discharge by Haryana, submerging several localities along the river.
In the last 40 years, the city had witnessed floods in 1967, 1971, 1975, 1976, 1978, 1988, 1995 and 1998 but the flood in 1978 was of serious nature as it had inundated many areas in the city. (With PTI inputs)