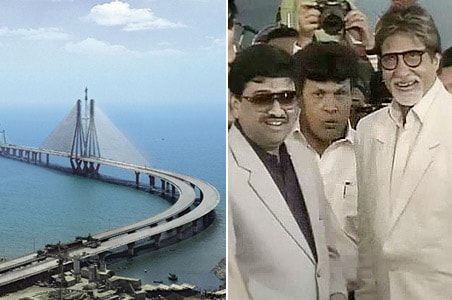 Mumbai:
It was meant to be a colourful welcome for Maximum City's brand new engineering marvel. Instead, it has spiralled into an unseemly controversy.
On Wednesday, the northern carriageway of the Bandra-Worli sealink was inaugurated by Chief Minister Ashok Chavan and special invitee Amitabh Bachchan. But soon after the inauguration, voices within the Mumbai Congress, unhappy with the presence of the iconic actor on a government platform, grew louder.
So much that the city Congress president was quick to dissociate himself from the function. Kripashankar Singh told reporters, "I want to clarify, neither the Mumbai Congress nor I was consulted before inviting Amitabh Bachchan." (
Forum: Is Congressmen's resentment appropriate?
)
Soon after, Chief Minister Chavan, in a hurriedly-convened late-night press conference said: "He (Amitabh Bachchan) is the brand ambassador of another state and hence some people were not happy with him being invited. Also, I've heard that some members of the Mumbai Congress were not invited for the function.''
Worried about the repercussions within the party, the Chief Minister claimed that he wasn't aware Bachchan was invited and even went so far as to admit that inviting him may have been a mistake. Chavan said, "I was not aware he (Amitabh Bachchan) was invited. The invitation did not have his name on it. Perhaps I would not have attended the function had I known he would be present."
The invitations were sent out by the Maharashtra State Road Development Corporation or MSRDC, a department controlled by the Sharad Pawar-led NCP. The NCP minister in charge of the MSRDC, Jayadutt Kshirsagar tried to clarify, "Both Amitabh Bachchan and Sachin Tendulkar were invited since both are icons and this is an iconic project."
Amitabh Bachchab reacted like he often does nowadays. On his blog. He wrote: "A fresh controversy has been rapidly manufactured on my involvement in today's event on the sea link...I had been invited by a Minister in the Government to attend and so I went along." (
Read: Bachchan blogs his reaction
)
Given that Amitabh Bachchan and the Gandhi family share a rather uneasy equation, Congressmen seem desperate to prove their loyalty to the Gandhi parivaar.
But in their bid at political sycophancy, they seem completely unconcerned about the humiliation it might cause to one of India's biggest icons who was only there because he was invited.