Dehradun:
Highlights
'Wasn't near horse when he fell ', says BJP MLA accused of hitting horse
New video shows horse slipping on staircase as protester charges at a cop
Uttarakhand CM visited the hospital where the horse underwent a surgery
A video that showed a BJP lawmaker from Uttarakhand brandishing a stick and appearing to aim at a policeman mounted on a horse caused outrage on Monday after it emerged that the
horse had suffered multiple fractures in a leg
.
The lawmaker, Ganesh Joshi, has been accused of animal cruelty in a police complaint. But he denied that he had hit the horse. "When the horse fell I was nowhere around. This is an attempt to malign me...it's a conspiracy," said Mr Joshi, berated on social media.
More videos of the BJP protest in Dehradun have emerged since and show that while Mr Joshi did lead supporters in a charge at policemen, hitting out repeatedly with the stick, he did not strike the horse. But other protesters aimed repeated blows at the animal.
Video footage shows the policeman backing the horse up a short staircase, and the animal slipping as a protester yanked at the cop, appearing to twist its leg under its own weight. In heartbreaking visuals the white horse named Shaktiman is seen hobbling on three legs, its left hind leg bloodied and broken.
Chief Minister Harish Rawat of the Congress visited the Army Vet Hospital in Dehradun last night and ordered the best treatment, saying, "It will treated like a wounded soldier." About Mr Joshi he said, the Congress would have "thrown such a person out of the party."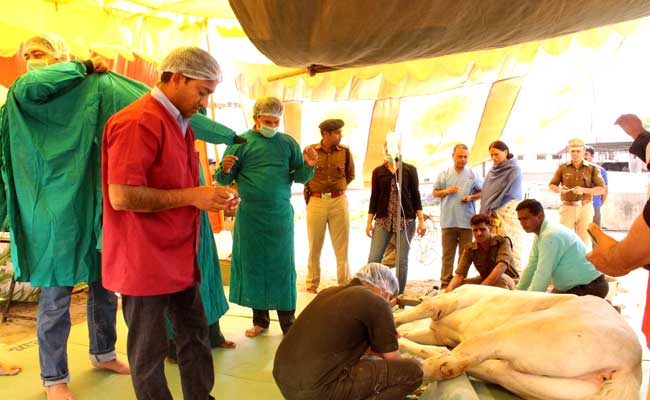 In Delhi, BJP leader and union minister Rajiv Pratap Rudy said, "The party has taken notice of the horse incident. It was unacceptable. We will take cognizance of the whole matter and act accordingly."
State BJP leaders allege that Chief Minister Rawat has used the horse's injury to "deflect attention from the issue of corruption" that was raised at the protest. "This is a drama created by Harish Rawat. We regret that the horse was injured. Our MLA did not target the horse's leg, he was trying to hit the ground," said the BJP's Ajay Bhatt.

Two police cases have been registered against Mr Joshi, who has offered to pay for the horse's treatment saying, "Whoever hurt the horse, humanity teaches us that we should help the horse."
Election Results for Lok Sabha Election 2019 will be out on May 23. Get the latest election news and live updates on ndtv.com/elections. Catch all the action on NDTV Live. Like us on Facebook or follow us on Twitter and Instagram for news updates from each of the 543 parliamentary seats for the election 2019