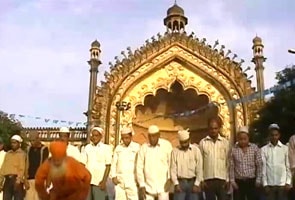 Hyderabad:
Authorities eased restrictions around the historic Charminar on Wednesday, providing some relief to the people reeling under curfew-like situation in the old-city of Hyderabad, police said.
Some shops around the Charminar -- the monument which symbolizes Hyderabad -- re-opened while two-wheelers were also allowed to ply on the roads leading to the heritage monument. However, restrictions on plying of three- and four-wheelers continued, a police official said.
After three days of a complete shutdown following tension over an alleged expansion of a temple abutting the monument, there were some signs of normalcy in the old city.
The police have not yet lifted prohibitory orders banning assembly of five or more people but removed some barricades in the areas adjoining Charminar, facilitating movement of the people.
As the day began, the police continued with the restrictions but in the afternoon shops were allowed to open.
For the second consecutive day, large number of devotees offered 'puja' at Bhagyalakshmi Temple abutting the Charminar. Long queues of men and women were seen.
Large number of policemen and paramilitary forces remained deployed in the communally sensitive localities.
Police Commissioner Anurag Sharma said normalcy was returning to the old city. He said the situation was peaceful.
The police chief appealed to all sections of people to cooperate in maintaining peace.
Meanwhile, the Vishwa Hindu Parishad (VHP) has demanded a probe by a sitting judge into the incidents that took place in the old-city during the last few days.
It accused Majlis-e-Ittehadul Muslimeen (MIM) of fomenting trouble for its vested political interests.