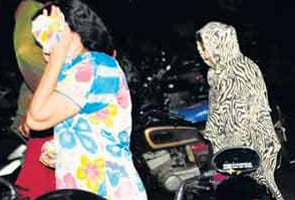 Mumbai:
The Mumbai police on Wednesday night raided a fourth floor apartment in Rishikesh Building in Malad (west) and unearthed a sex racket. The police rescued six girls and arrested the owner Madhuri Palshetkar, a 45-year-old widow, who was allegedly the mastermind behind the sex racket.
Investigating officials told MiD DAY that they were informed of suspicious activity in the apartment by neighbours. The police sent a decoy acting as a customer around 7.30 pm. An hour later, the police busted the operation and rescued six girls, all between 20 and 30 years of age. According to preliminary investigations, the rescued girls belonged to middle-class families.
"Palshetkar, who ran the racket was arrested under the Prevention of Immoral Trafficking Act," said a senior official.
According to the police, few agents supplied girls to the widow and also arranged for the customers. The money was divided among the girls, owner and the agents. The girls received fifty per cent of the earning, while the other fifty was divided between the agents and the woman. They operated the sex racket on a daily basis, which alerted the society members.
Inspector D Nalavde said, "After we received information about such things occurring inside a flat in the building, we laid a trap to catch hold of the owner and the girls. We sent a decoy as a customer, who got all the rates of the girls and details of the entire operation."
During a swoop of the entire apartment, the police recovered Rs 5,000 and a lot of contraceptives.
The rescued girls were taken to Bhagwati Hospital around 1 am for a medical check-up and later sent to the Chembur rehabilitation centre where they will undergo counselling.