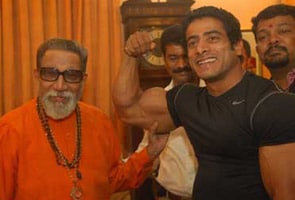 Mumbai:
He returned from the Gulf yesterday with a gold medal in his bag. No sooner did he land at the airport, than he made a dash for Matoshree to show his accolade to Shiv Sena Chief Bal Thackeray.
Mumbaikar Suhas Khamkar has done the country proud by being the first in 20 years to win agold at the Asian Federation of Bodybuilding and Fitness Mr Asia bodybuilding championship.
The Central Railway employee won the gold in the 75 kg category in the Asian event held in Bahrain recently.
Khamkar, who was born in Kolhapur, has been living in Mumbai since a decade.
Another Indian, Heera Lal, won a gold in the 65 kg category.
This comes close on the heels of Narsingh Yadav's winning accolades for the country at the recently concluded Commonwealth Games.
Khamkar was thrilled to hear his name being announced as the winner among the 117 competitors.
"My most memorable moment will be when I saw the Tricolour flying high among the flags of all Arab countries that were the major participants at the event," said Khamkar.
"I can't put into words how I felt when my name was announced." The senior Thackeray was overwhelmed to see the champion's muscles.
At Matoshree, there was a display of Khamkar's physique at a special request made by the Sena supremo.
"I am a follower of Balasaheb. I'm here to seek his blessings after winning this prestigious title," he said.
Khamkar, who has been practising bodybuilding for the past 12 years, had a word of caution for youngsters who want to take up bodybuilding.
"There are no shortcuts to success and whoever wants to achieve something in bodybuilding will have to put in extra effort," he said.
"The young bodybuilders of today think they will gain instant fame and recognition and so take shortcuts like steroids and other stuff."
Khamkar works out for seven to eight hours a day. His daily diet includes 50 eggs, 1.5 kg chicken, 700 gm fish, around 5 kg fruits, especially apples and sweet limes. The protein supplements that he takes are imported from the US.