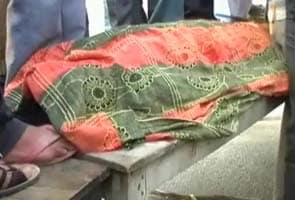 Kaithal:
Criminals shot dead one school girl and left another seriously injured in Haryana's Kaithal district, 160 kilometres from capital Chandigarh, this morning. Angry family members and locals, alleging that the police is not doing anything to catch the criminals, took the body of the girl and have blocked a national highway in protest. They have refused to remove it, despite assurances of action by top district officials.
The dead girl, Shikha, was in class eight and her friend Amandeep in class 12. They were both on their way to their school when some unidentified men on a motorcycle rode up to them and fired. Shikha died on the spot, while Amandeep was taken to hospital, where she is being treated for a bullet wound to her arm.
It is not yet known why the girls were targeted, or if only one of them was the actual target, nor the motive of the crime. But the police's alleged tardiness has angered the girls' families as well as local villagers.
"For three hours, the police did nothing, even though they were informed of the girl's death and the shooting," an uncle of Shikha's said. Angry locals vowed not to remove the blockade on the highway till action was taken. "We will ensure that there is violence, but we will only open the highway once something is done," a villager who witnessed the shooting said.
The local police station head though claimed that he reached the spot immediately after the crime was reported, but nobody was willing to cooperate or give any information. "We were here in 10 minutes of the report. But we can only act if someone gives a statement," the officer, Birendra Singh, said.
This latest incident is another black mark against Haryana, already reeling after a series of rapes, mostly of minors, rocked the state last month.