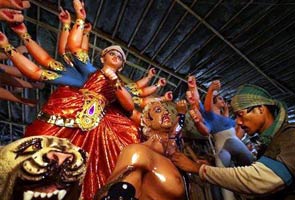 New Delhi:
A towering Buddha sculpture greets visitors to a Durga Puja pandal in central Delhi's Arambagh locality, which is celebrating its silver jubilee this year.
Created by Kolkata-based sculptor Guranga Kuila, the 16 feet tall and 12.5 feet wide sculpture has been fashioned out of brass replicas of items like leaves of the mango and bael leaves, diyas, brass water vessels - all traditional offerings to the Goddess Durga.
The idol of the goddess itself, a monumental 20 feet high and 26 feet wide has been transported to Delhi from Kolkata where it was handcrafted with seven types of clay by sculptor Pradeep Rudrapal, who has earned fame for his spectacular idols.
While with an estimated budget ranging between Rs 75 lakhs to Rs 1 crore, the Arambag committee wants to make this year's celebration special. Former President Abdul Kalam inaugurated the Buddha-themed pandal late last evening.
Other Durga Puja committees in Delhi and the National Capital Region (NCR) area, which is estimated to number over 800, are also geared up with special themes and festivities.
Most have roped in artists from Kolkata who park themselves in the city months ahead of the festival.
"There must be more than 1200 pandals in Delhi and NCR," says Chakravarthy.
For Vishvajit Pal, a sculptor from Krishnanagar in West Bengal, the days leading to the Durga Puja are quite busy.
Pal, who has been making idols for the past 30 years, has been coming to Delhi since the past 9 years. At the Delhi Durga Puja Samiti, he is overseeing preparations for at least 10 idols that will be dispatched to various committees across the city.
On concluding day of the Puja, when the Goddesss is immersed, the Kashmiri Gate samiti members use a bullock cart to transport. "Everyone uses trucks but we still continue to use a bullock cart," Mukherjee says.
Kashmiri Gate, Karol Bagh, Kali Bari and Timarpur count amongst the oldest Durga Puja Samitis in Delhi.
The Tirmarpur Samiti is celebrating its 100th Puja this year, and the others too are more or less in the same zone.
As per mythology, Goddess Durga accompanied by her four children descends to the earth every year to visit her parents and slay the demon Mahisasura, the epitome of evil.
"Everybody is happy and when a daughter comes home she is welcomed by her parents who prepare all sorts of special dishes. So the days of the Puja we have many dishes. The crowds that throng the pandal are huge, running into lakhs and we endeavor to feed all of them and never normally run out," says Saraswati Charkarvarty of the Arambagh Puja Samiti.