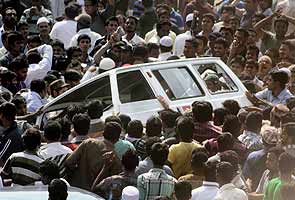 Hyderabad:
The situation in the old city of Hyderabad continued to be tense on Monday with sporadic incidents of stone pelting. A curfew-like situation prevailed around the historic Charminar.
The construction of a canopy over a temple abutting the monument on Sunday sparked trouble leading to withdrawal of support by Majlis-e-Ittehadul Muslimeen (MIM) to the Congress government in Andhra Pradesh and United Progressive Alliance (UPA) in New Delhi.
The 400-year-old monument and the usually busy markets around it were deserted with armed policemen barricade visible in the entire area. Residents in localities surrounding the heritage monument were facing severe inconvenience as police prevented them from coming out of their houses.
Policemen and personnel from paramilitary forces remained deployed at Charminar and surrounding areas. The police arrested Hindu religious leader Swami Paripoornananda and some BJP leaders proceeding to Bhagyalakshmi temple abutting Charminar.
The Swami was later released and the police escorted him to the temple. Deputy Commissioner of Police Akun Sabharwal said the situation remained peaceful and appealed to people not to believe rumors.
Road Transport Corporation (RTC) suspended all of its bus services. RTC officials said 157 services were cancelled as a precautionary measure. All schools and colleges in the old city declared a holiday.
Trouble broke out in Aghapura area outside the old city when some MIM activists coming out of the party headquarters pelted stones, damaging few vehicles. They targeted a vehicle of a television channel. Police resorted to baton charge to disperse the mob.
The incident took place after MIM chief Asaduddin Owaisi addressed a press conference, announcing withdrawal of support to the Congress government. Mr Owaisi later came out of the party office to control hundreds of party supporters and persuaded them to return home.
MIM legislators were arrested at Charminar on Sunday when they staged a protest over the erection of a canopy on the temple structure. They alleged that the court orders to maintain status quo at the temple were violated.
Police Commissioner Anurag Sharma on Sunday night clarified that the temple committee was allowed to cover the temple structure with tarpaulin sheets after Archaeological Survey of India (ASI) said the structure had the covers as on October 30.