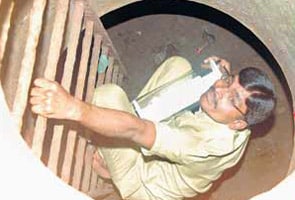 Mumbai:
An ancient tunnel dating back 200 years was discovered on the premises of the General Post Office (GPO) at CST in Mumbai on Monday.
MiD DAY learnt about this slice of history and informed the GPO authorities three days ago. Initially, the authorities refused to believe that they could be sitting, in more ways than one, on such an ancient passageway. Soon, it was thrill and excitement at the discovery and then a resolve to dig deeper and find out more about this passage.
Chief Postmaster General (Maharashtra & Goa) Faiz ur Rehman was not amused when he was first told about the tunnel.
"In the last 25 years that I've been working at this building, I've never heard about any such thing," said Rehman. "We'd like to confirm any such existence before making any comments to the media."
Yesterday, Rehman, who was in Aurangabad, was astounded when told about the passageway.
"It's like a treasure for the GPO. We are thankful to MiD DAY for bringing this fact to our notice and want to explore it as much as we can to understand what it could have been for ages together," said Rehman.
"We will seek assistance from the heritage department and others concerned to unearth this mystery."
With other senior officials at the GPO, it was a similar tale of disbelief turning into surprise.
"Neither have I ever heard of any such a passageway," said Postal Director Abha Singh who later said she admitted that the entire area surrounding the GPO may be steeped in history.
"Truly, it's a treasure and we'd love to preserve it," said Singh.
She hoped that the passage could someday be converted into a museum and thrown open to the public.
Director of GPO Shobha Madhale, however, admitted to MiD DAY of having learnt of such a thing but could not explore it due to non-availability of resources.
Acting on a tip-off by this correspondent, Postal Director Abha Singh and a few employees
started making enquiries with liftman S S Jadhav who has been employed with the department for 26 years.
Jadhav confirmed having learnt of such an underground opening.
Along with Jadhav and a few other employees, MiD DAY went to a garden in front of the building. There, we came across a cement structure covered with a lid and a flowerpot placed on it. It took at least three people to open the lid.
Inside was a rusted iron ladder, leading to a muddy floor. None of the people around mustered courage to step in. There were two other openings leading below each within a few metres of the other.
Postal Director Abha Singh gets the employees to open the lid in a garden in front of the GPO building.
A BMC drainage cleaning employee, who was at the spot, confirmed to MiD DAY that it could not be a drainage tank, as there was no foul stench of gas being emitted from the opening.
"I know each and every underground passage in front of the GPO but I've never come across anything like this before," he said.
He bolstered his claims by citing characteristics of tanks put by the civic body and confirmed that this one at GPO was not one of them.
"I cannot step in without using safety gear. Also, I need to inform my superiors before sending somebody inside," said the BMC employee.
Finally, postal employee Devji Waghela dared to enter, armed with an emergency lamp. "The mouth of the tunnel is wide open and any person can walk inside," said Waghela.
"Neither did I feel suffocated nor was the place stinking. I could see mud all over the place."
Waghela said he flashed the lamp he had and he could see a walkway-like passage flanked by strong walls as far as the eye reached.
Chairman of Mumbai Heritage Committee, Dinesh Afzalpurkar, said he would ask his officials to visit the site and study if the place has any historical background.
"We will certainly examine if it [the discovery] has any heritage value and needs to be persevered. We will write to the state government to declare it a heritage structure," said Afzalpurkar.
Assistant Director of the state Archaeological Department, Balchandra Kulkarni, said, "It would truly be a great contribution by MiD DAY if this leads to a forgotten treasure from the British era."
Kulkarni said the tunnel could either be a drainage line used during the British era or an escape route.
"Things will be clear only after a detailed study. Whatever, it's interesting and I will want to conduct a personal study of the findings," he said.
Kulkarni, who has studied Mumbai's forts said the British feared an attack by Napoleon and had constructed an underground escape route stretching from Apollo Bunder to where the Bombay High Court stands and St George's Fort (covering St George Hospital to Masjid Bunder).
A 1.5-km tunnel also exists in the adjacent St George Hospital's ward number 5.
"I have studied the St George fort passageway which opens inside St George Hospital but that passage connects to a dead end and nothing concrete could be concluded from there," said Kulkarni.
Reporter narrates how he cracked the story;
During the course of my visits to the GPO a senior postal official had, during a casual chat, told me about a tehkhana (dungeon) beneath the GPO. I had then made a mental note to explore this nugget of information. I even discussed about this with the former Chief Postmaster General and other senior officials, including Director (GPO) Shobha Madhale, but nothing transpired.
Somehow, this
tehkhana
played on my mind every time I stepped into the GPO building.Last Friday, I mentioned it to Postal Director Abha Singh and she ushered me into the office of the Chief Postmaster General Faiz ur Rehman who summoned staffers and asked them to enquire.
Postal Assistant Director S B Vyavahare entered the office with lift operator Jadhav who corroborated my statement. Rehman then promised an internal investigation and said he would revert on Monday, which he did.

History check
The British who were ruling Bombay during the 18th century feared that Napoleon would attack Bombay. In order to protect themselves, they constructed an underground escape passage route called Bombay Fort. However, Napolean was defeated in the Battle of Waterloo in 1815.
1862
Year the Bombay Fort was demolished by the British
1913
Year the GPO building was erected.