Highlights
Collision of 2 ships off Chennai coast last week caused massive spill
Authorities denied spill first, estimate was later revised several times
Coast Guard rejects time was lost and clean-up was haphazard
Chennai:
It may take 10 more days to clean up the worst-affected areas after
a massive oil spill caused by the collision of two ships off Chennai last Saturday
. The Coast Guard today rejected
speculation that the response to the huge environmental disaster had been haphazard and delayed
. Hundreds of volunteers, including engineering students and fishermen, are manually collecting sludge in buckets to clear the water and reduce the damage.
The Coast guard denies there was any delay in response after cargo ships carrying Liquefied Petroleum Gas and petroleum oil lubricant collided near Chennai's Kamarajar Port.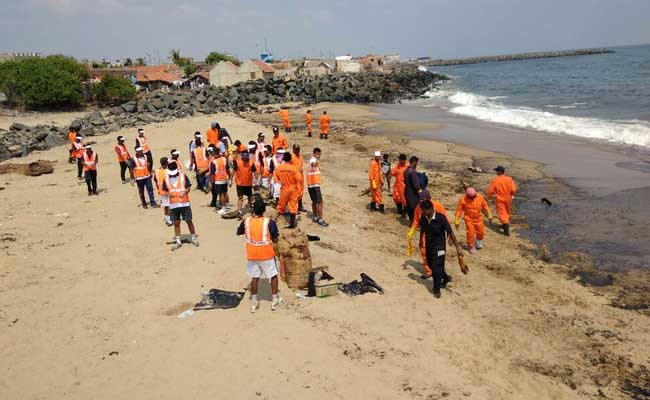 "The accident happened around 4 am on Saturday. We got the information at 6 am and at 7 am our chopper was there. The spill was much less then. Our immediate focus then was safety of the crew and the ship. We've done 19 sorties so far monitoring the situation," said Rajan Bargotra, Coast Guard Inspector General.
After initially denying any spill, the port authorities said 200 litres had leaked. The figure was amended to one metric tonne, then two-three, and finally, the Coast Guard released a more worrying assessment - 20 tonnes. Experts have wondered whether in the phase of denial,
previous time was lost
.
Tonnes of thick sludge collected
from the worst-hit among the beaches of Chennai will be treated with bacteria. On the 74 km coast in Chennai, tar balls have piled up in a 12-km stretch.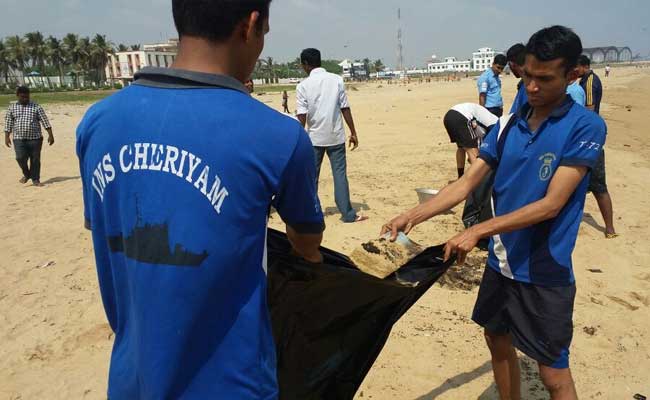 On board Coast Guard's ship Varad, Mr Bargotra shows pockets of oil neutralised by dispersant sprayed by ships and choppers. He insists that there is no threat to the environment. "It's a major accident but a minor spill. The turtles have not died, nor has there been any death of fish," he said.
Mr Bargotra also dismisses criticism that his team lacks modern equipment, especially after it emerged that super-sucker machines failed to extract the sludge. "We have skimmers but weren't effective. In a rocky situation like this manual operation is very effective," he said.
An inquiry has started into the spill. Chennai Port Trust Chairman P Raveendran says, "Action will be taken according to the polluter pays principle.