Chennai:
An
oil spill caused by two cargo ships colliding near Chennai
is believed to have affected a 30-km stretch along the coastline and is spreading because of the waves and strong winds. Close to a thousand workers, including volunteers from engineering colleges and fishermen,
are using their bare hands to clear the thick sludge
that machines have failed to remove, and dump it in vats.
According to the Hyderabad-based Indian National Centre for Ocean Information Services or INCOIS,
around 15 to 20 tonnes of oil spilled into the sea when the ships collided near Chennai's Kamarajar Port
on Saturday.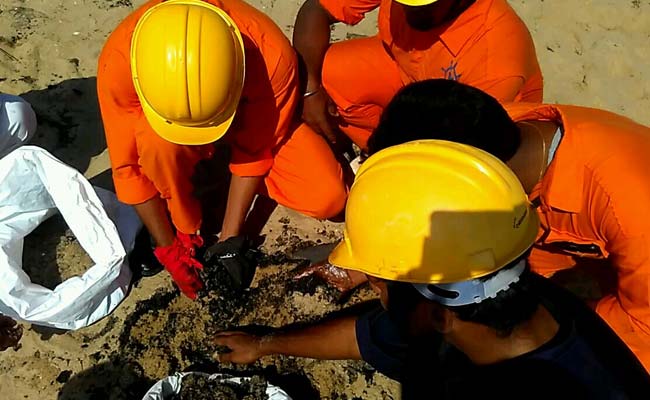 In four days, half the oil has been cleared. Questions are being raised on whether precious time was lost because the port authorities denied any oil spill at first.
The ships, MT Maple and MT Dawn, were carrying Liquefied Petroleum Gas and petroleum oil lubricant.
The slick has alarmingly now hit Marina Beach, nearly 30 km from the site of the collision, and is moving further ahead.
Environmentalists are worried because nearly half a dozen turtles have died in the polluted area.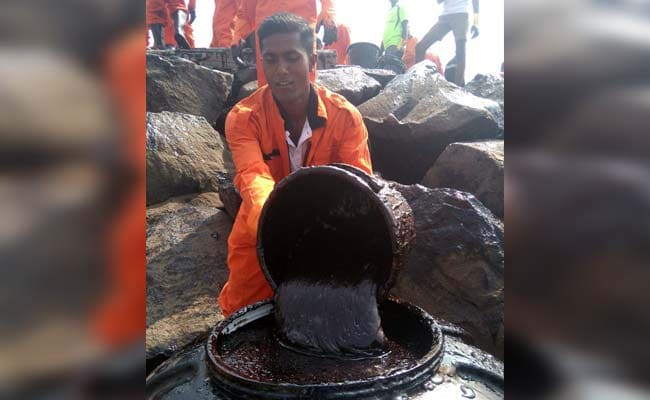 Volunteers, many of them in orange jumpsuits, are seen lifting oil mixed with sand with their hands, without any protective gear, and collecting it in vats and bags. "We are happy doing this for others. It smells bad and sticks to our hand," said Amavasai, a worker.
Three much-hyped suction machines didn't work as they pumped out more water than sludge.
"We've tried all kinds of technology and found that manual clearing is the only possibility. We've brought in more people," said MA Bhaskarachar, the chairman of Kamarajar port.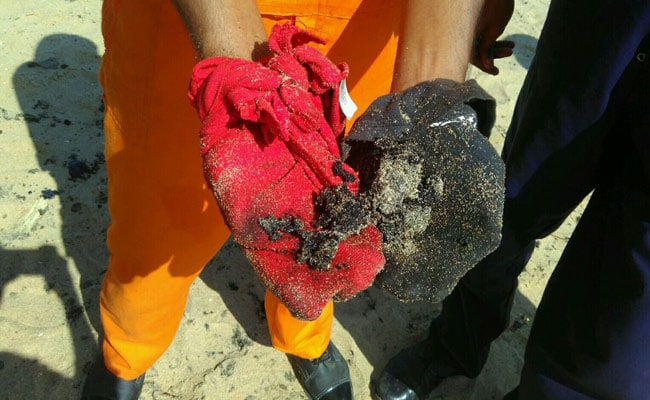 Coast Guard helicopters are conducting regular sorties to monitor the oil slick.
Environmentalists are worried about animals like turtles dying because of the oil spill. Four turtles were found dead.
"The spill will affect oxygen supply to aquatic species. More species will die. But we are not able to assess the loss as we don't have a base line," said Emily Titus, an environmentalist.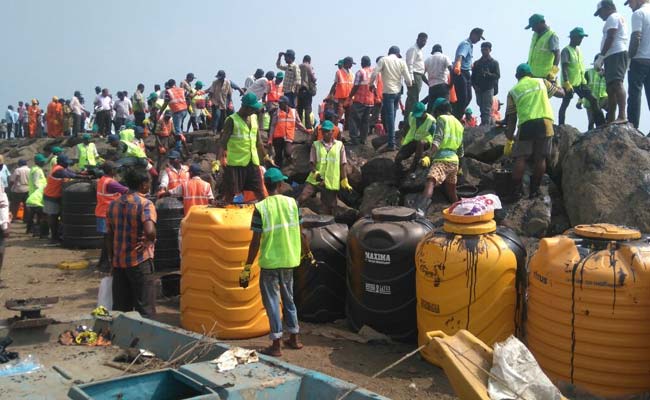 Fishermen have also suffered a dip in business
because of rumours of dead fish. Many have stopped going to the market as fish worth thousands of rupees goes unsold.
Besides the coast guard, firemen, port officials, those from Highways and Chennai Metro Water are also helping in the clean-up.