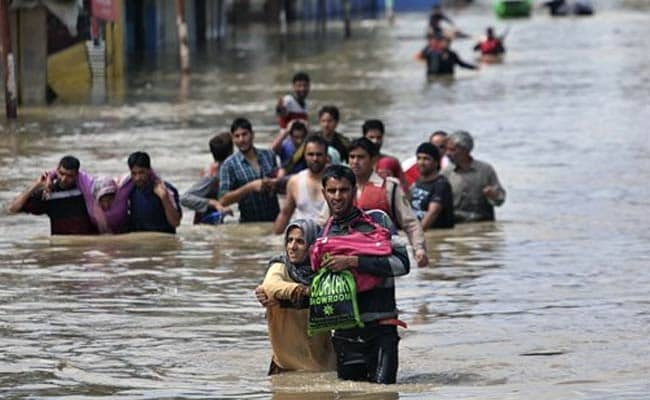 Srinagar/Jammu:
Nearly 150 people have died and thousands are marooned in Jammu and Kashmir, devastated by its worst floods in 60 years. Much of capital city Srinagar is submerged with people waiting for rescue on terraces and rooftops. Many people have lost contact with their families with phone lines down.
Here are the latest developments:
The water level is receding in parts of Srinagar, which had turned into a giant lake from the waters of the swollen Jhelum. The water level was two to three storeys high in areas like Raj Bagh. People moved to hospitals and other high rise buildings to escape the rising water. The Army cantonment, Civil Secretariat and the High Court, and many hospitals in Srinagar are inundated. The situation has improved in Jammu.

Areas like Pulwama, Anantnag and Shopian in south and central Kashmir are completely cut off with roads and bridges swept away. The state government has ordered all schools to remain closed till September 12. Many people are now living in relief camps and temporary shelters.

There has been no fresh rainfall today, but with virtually all phone lines down in the main city of Srinagar and roads cut off, the exact scale of the disaster is still unclear. No rain is expected in Jammu today, but light showers are likely in Srinagar.

There has been no electricity in many areas for hours now all over the state including Srinagar. Phone lines are down and people have reported that they have been unable to contact stranded families since last night. Helplines and even social media sites are flooded with SOS messages giving details of families awaiting rescue.

The state was battered by heavy rain for six days which caused major rivers and streams to overflow. As rain let up yesterday, rescue operations intensified. An Indian Air Force's Flight Lieutenant KS Lamba said the high terrain has made rescue operations tougher. "We have experienced pilots to complete this task. We have the immediate relief materials with us which is required as of now. We have medicines, blankets, water and utensils needed etc," he said.

The Army has deployed 184 columns (75-100 personnel each) while IAF has deployed 29 planes and helicopters. Over 13,000 people have been rescued from various areas by the Army and the IAF. The National Disaster Response Force (NDRF) has rescued over 5200 people."The Indian Army will not move back to the barracks till the last man is brought to safety," said General Dalbir Singh, Chief of the Army Staff.

In the Jammu region, landslides triggered by heavy rainfall have damaged roads, dozens of bridges, buildings and crops. Vehicular traffic has been stopped on the Jammu-Pathankot highway. Katra-bound trains have been halted. Haj flights scheduled up to September 12 have been postponed.

Prime Minister Narendra Modi, who undertook an aerial survey of the state on Sunday, and also met chief minister Omar Abdullah and top officials, has called it a "national level calamity." He announced central aid of Rs. 1000 crore for the state. "I would like to assure the people of the state that it is not their crisis alone. It is a crisis for the whole country," Mr Modi said.

"I appeal to people to not panic, I know the circumstances are bad but request them to stay on upper floors. We promise to reach them," said Jammu and Kashmir Chief Minister Omar Abdullah.

A home ministry official has been sent to Srinagar to monitor rescue operations. The government has also set up a control room in Delhi and has asked people to approach it with details of their trapped families.