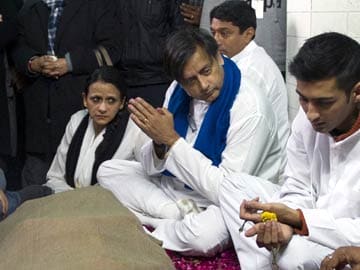 New Delhi:
Union Minister Shashi Tharoor on Sunday recorded his statement before the Sub Divisional Magistrate who is investigating the death of his wife Sunanda Pushkar. Earlier he had written to Home Minister Sushil Kumar Shinde offering full cooperation in the probe.
(Full text of Shashi Tharoor's letter to Home Minister Sushil Kumar Shinde)
Mrs Tharoor was found dead at a hotel room on Friday night, days after she said her husband was having an affair with Pakistani journalist Mehr Tarar.
Here are the top 10 developments in the case:
Ms Tarar said today that she had no role in the alleged marital discord between Mr Tharoor and Sunanda Pushkar. "News has been appearing about their marriage for long. A Pakistani woman sitting here cannot spoil their marriage," she said.

Doctors at the All India Institute of Medical Sciences (AIIMS) said yesterday that Mrs Tharoor had a "sudden, unnatural death". Dr Sudhir Gupta, one of the three doctors who conducted the autopsy, however, said a few injury marks have been found on Mrs Tharoor's body, but refused to elaborate.

The autopsy was photographed and filmed. A preliminary report will be submitted to the Sub-Division Magistrate soon, doctors said yesterday.

Mr Tharoor was admitted to same hospital for a few hours yesterday after he complained of chest pains and palpitation.

Mrs Tharoor was found dead on her bed at 9 pm by Mr Tharoor at the hotel they were staying in while their home was being painted. (Read: Sequence of events)

She was cremated at the Lodhi Road crematorium yesterday evening. She is survived by her husband, Mr Tharoor, and a 21-year-old son from an earlier marriage.


Her iPad and iPhone have been taken as forensic evidence by the police. Investigators are examining the CCTV footage at the hotel and the staff is also being questioned.

On Wednesday, in a series of tweets, she accused reporter Ms Tarar of stalking her husband. She told NDTV sources that she would seek a divorce.

But next day, the couple issued joint statement saying they are "happily married" and intend to stay that way." (Read statement)

They married in 2010, it was the third marriage for both. Four months before that, Mr Tharoor had to quit his first ministerial post after allegations that a Rs. 70-crore stake given to his wife in the Kerala franchise of the IPL was actually a payment to the minister for arranging the sale of the team from his home.
Shashi Tharoor's letter to Home Minister Sushil Kumar Shinde
Post a comment