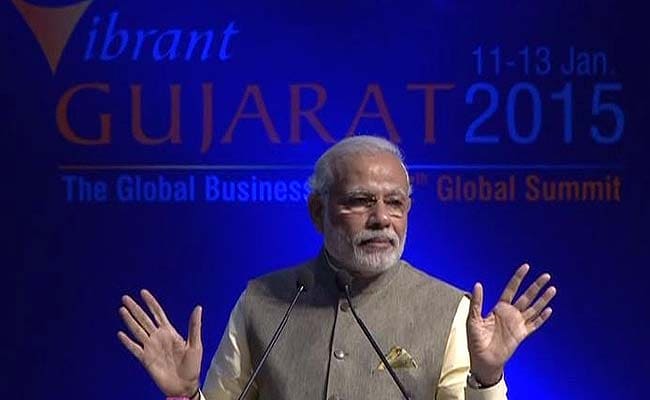 Gandhinagar: Prime Minister Narendra Modi today said there was "tremendous interest in India" with countries "coming forward to work with us" at the inaugural session of the Vibrant Gujarat Summit in Gandhinagar.
Here are the top ten quotes from his speech:
We are here as a family, not only in terms of space, but because we recognise that someone's dream is dependent on someone's direction.
This event is perhaps the biggest gathering on earth where a budding entrepreneur has opportunity to see President of the World Bank. And where a young farmer can listen to the views of the UN Secretary General on issues like food security.
In a short span of seven months, we have been able to change the atmosphere of despair and uncertainty. Since the first day, my government is actively working to revive the economy.
Have travelled across India and to parts of the world. The biggest concern is about the global economy. We all have to find ways for economic stability and recovery.
There is tremendous interest in India. Countries are coming forward to work with us.
We want to promote co-operative federalism in the country. At the same time, we want a competitive element among the states. I call this new form of federalism Co-operative and Competitive Federalism.
Government of India is working towards single window clearance at the Federal and State levels

Recession is often seen just in the context of business and industry. Have we ever thought of recession as being the result of low per capita income in countries where a majority of global population lives?
Ease of doing business in India is a prime concern for you and us. I assure you that we are working very seriously on these issues.
We have a large number of hands to work. And, we have even larger number of dreams to be realised. We are dreaming big. Our dreams are numerous. Our dreams can become the seeds of your growth. Our aspirations can propel your ambitions.