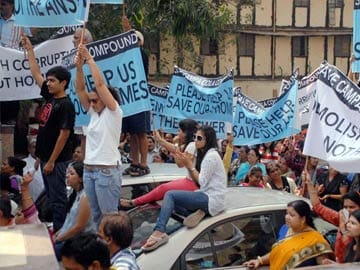 Mumbai: Over 100 families in Mumbai's Campa Cola compound locked their gates on Tuesday and barricaded themselves inside for hours, physically blocking a demolition squad and policemen as they desperately fought to keep their home of two decades. By evening, as civic officials started snapping power, water and gas connections to the illegal flats, it was clear that the residents were running out of options. The officials will return today to continue with the process of eviction.
Here are the latest updates on this story
As a prelude to demolishing the illegal flats in the high rise complex in south Mumbai, civic officials on Tuesday disconnected water, electricity and gas supply to eight of the flats that have already been vacated by their owners.
Officials say they will keep returning every day to ensure that the Supreme Court's order to demolish 102 illegal flats in the compound is followed. The court's deadline to vacate the flats ended on Monday.
Residents of these illegal flats have refused to budge, saying they were duped by builders. They locked the gates to the complex and blocked all access with their cars, to stop the demolition teams from entering.
"We are trying to handle the situation peacefully and are avoiding using force," said Kishore Kshirsagar, deputy commissioner, Brihanmumbai Municipal Corporation (BMC).
The residents have pinned their diminishing hopes on Maharashtra Chief Minister Prithviraj Chavan, who today asked the Centre's top lawyer, the Attorney General, whether an ordinance - or an executive order - can save the homes. "The BMC action is according to the Supreme Court verdict. We are trying to give some relief to the occupants. We are in touch with our legal counsel. Can't talk on what our next step would be," Mr Chavan said.

"The Maharashtra chief minister must state his intent and ability (or legal inability) to help," tweeted Milind Deora, the Congress MP from Mumbai South.

Seven high-rises were constructed at what is called the Campa Cola Compound, between 1981 and 1989. The builders had permission for only five floors, but constructed several more. One of the buildings, Midtown, has 20 floors. Another building, Orchid, has 17.
The residents have been fighting a legal battle since 2005, when they first went to court for water supply and regularization.

The Supreme Court asked the BMC to investigate, and the civic body served demolition notices for all flats constructed above the fifth floor, which it said were illegal.

Their long and difficult fight won wide political support even though the opposition Shiv Sena heads the civic body and the ruling Congress is cautious about skirting court orders.