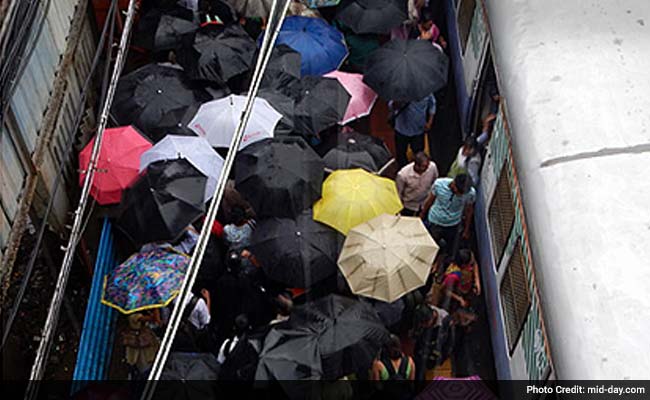 Mumbai:
The people of Mumbai have been asked to stay at home today as well after 15 days' worth of rain on Friday left the city battered and struggling to cope. Large parts India's financial capital were flooded and trains, buses and flights were badly hit yesterday.
Here are 10 developments in the story:
"We have advised people not to go out and remain indoors on Saturday," advised Mumbai's civic body chief Ajoy Mehta as the city battled incessant rain and flooding in just the second week of monsoon on Friday.

Yesterday, a downpour of over 500 mm in 24 hours clogged the city's outdated drainage system, capable of handling only a tenth of it. Confronting anger, Mr Mehta said: "Something which has been going on for 10 years cannot be improved in one minute."

As the met department warned of heavy rain for most of Saturday, Brihanmumbai Municipal Corporation (BMC) urged citizens to stay away from beaches and avoid going too close to the Marine Drive sea wall.

All schools and the Bombay High Court will remains shut today as well. Flights were delayed and the city's BEST buses altered their routes yesterday.

Rain covered tracks and crippled local train services for most of yesterday, which are the lifeline of the city. Around 70-80 lakh people take local trains to work everyday. The railways have asked commuters to travel "only in case of emergency" on Saturday.

Massive traffic jams were reported across the city yesterday, especially in areas that are badly flooded including Dadar, Parel, Sion, Andheri, Jogeshwari and Santa Cruz. Residents complained that brand new water pumping stations on which the civic body spent 200 crores failed to work after being damaged by rocks.

"#EveryYearSameStory---I think the Mumbaikar tax-payers money is used to block the city's drainage system," said actor-filmmaker Farhan Akhtar in a widely favourited tweet on Friday.

In response to the criticism, Aditya Thackeray, whose Shiv Sena controls the civic body, tweeted: "300 mm is a test for any city, and neither anyone of us, nor government agencies will shy away from responsibility. Working on streets."

With another challenging day ahead, teams of the navy and the National Disaster Response Force have been kept on standby. The navy has kept divers and inflatable boats ready.

A five-year-old child and 60-year-old man died after being electrocuted in Wadala yesterday, which was one of the worst hit areas. Another boy is missing after he fell in a nullah in mankhurd village. Rescue teams have reached the site and search efforts are underway.
Post a comment