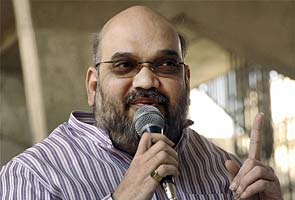 Ahmedabad:
Gujarat top cop DG Vanzara, in jail in a number of fake encounter cases, has written a 10-page resignation letter saying that he feels "ditched and disowned" by politicians under whose orders he alleges he acted, severely criticising former state home minister Amit Shah. He also makes bitter remarks about Chief Minister Narendra Modi, who he says he "adored like a god."
Here is your 10-point guide to this story:
The letter alleges: "The Gujarat CID/CBI had arrested me and my officers in different encounter cases holding us to be responsible for carrying out alleged fake encounters. If that is true, then the CBI investigating officers of all the four encounters cases have to arrest the policy formulators also as we, being field officers, have simply implemented the conscious policy of this government which was inspiring, guiding and monitoring our actions from very close quarters."

Mr Vanzara alleges that efforts have been made to keep him and other officers in jail to gain political mileage and accuses the government of not being "interested in protecting us" while hiring the best lawyers to fight the cases of Mr Shah who faces similar charges in some cases.

The suspended Deputy Inspector General of Police writes, "I would like to categorically state that the officers and men of the Crime Branch, ATS and Border Range during 2002-07 simply acted and performed their duties in compliance of the conscious policy of this government." He has addressed the letter to the Additional Chief Secretary (Home) of the Gujarat government and marked copies to the Director General of Gujarat Police and the CBI director.

About the Chief Minister he says, "I used to adore Modi like a god. But I am sorry to state that my God could not rise to occasion under the evil influence of Amit Shah who usurped his eyes and ears and has been misguding him."

He complains in the letter that, "the government has been reaping very rich political dividends since last 12 years keeping the glow of encounter cases alive in Gujarat." Mr Vanzara was celebrated in Gujarat as an encounter specialist and tough cop till he was charged with murder and arrested in the Sohrabuddin Sheikh fake encounter case in 2007.

He alleges that the Gujarat government did a u-turn on encounter cases when Amit Shah was arrested. Mr Shah was arrested in 2010, also in the Sohrabudin Shiekh case. Both face charges of murder in the case.

He accuses Mr Shah of being an "ace strategist" who "convincingly proved himself to be completely self-centric," and also alleges that the BJP leader maneuvered matters in the Sohrabuddin trial in a way to be able to return to Gujarat and fight assembly elections last year.

In another mention of Mr Modi, Mr Vanzara writes, "it would not be out of context to remind (Modi) that he, in the hurry of marching towards Delhi, may kindly not forget to repay the debt which he owes to jailed police officers...who endowed him with the halo of Brave Chief Minister

And he also writes, "But for the sacrifices made by me and my officers in thwarting the onslaught of initial disorder in the state, the "Gujarat Model of Development" which this government is so assiduously showcasing at the national level would not have been possible.

DG Vanzara was among the first to be arrested in the Sohrabuddin Sheikh fake encounter case in April 2007, and was later named by the CBI in the Ishrat Jahan alleged fake encounter case. The trial in the Ishrat case begins next week. Mr Vanzara is currently lodged in the Sabarmati Central jail in Ahmedabad.