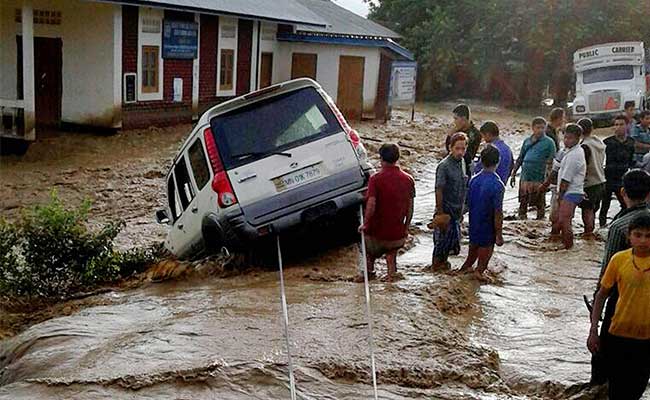 New Delhi:
At least 70 people have been killed in floods in three states, Bengal, Odisha and Manipur, because of rain in the aftermath of cyclone Komen. There are reports that a flash flood has destroyed a village in Leh in Jammu and Kashmir.
Here are 10 developments in the story:
Filmmaker Rakeysh Omprakash Mehra told NDTV that a village in Leh less than 10 km from the airport was washed away in a massive flood. "Since last night, no one has come to help and we have seen not one official or personnel," the filmmaker said, adding that many foreign tourists were stranded.

Since Friday, nearly 50 have died in West Bengal, where incessant rain has left large parts of Kolkata and 12 districts submerged.

Bengal Chief Minister Mamata Banerjee spent the night in her office as she monitored the flood situation.

In a dozen worst hit districts in West Bengal, more than two lakh people are in relief camps.

Mamta Banerjee has claimed that the situation in her state has worsened because neighbouring Jharkhand is releasing water and so is the Damodar Valley Corporation from its dams. "DVC is doing business in Bengal. We love them but they can drown Bengal," she said.

Manipur is confronting what could be the worst floods it has experienced in three decades, with an estimated one lakh people affected. (See pics)

Manipur's capital Imphal has been cut off from Moreh on the Indo-Myanmar border and Jiribam on the Assam border, rescue teams are facing a tough time in carrying out operations in Chandel district, where 20 people died in a landslide on Saturday.

The Chakpi and other rivers in Manipur are flowing well over the danger mark. Residents of a village in Chandel are trying to repair a bridge that has almost been washed away.

In Odisha, almost five lakh people are in relief camps. But flood waters are now receding.

There has been a continuous downpour in parts of Jharkhand's Giridih and Chatra districts too, leading to inundation in low lying areas. Rivers in the district are flowing above or very close to the danger mark.