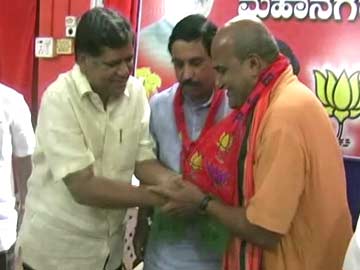 Hubli, Karnataka: Barely a few hours after controversial chief of the Sri Ram Sene Pramod Muthalik, linked with an attack on women at a pub in Mangalore in 2009, was inducted in the BJP by its state unit in Karnataka, his admission to the party has been stopped by the central BJP leadership.
Following are the top 10 developments in the story:
This afternoon, Mr Muthalik, 61, had signed up with the BJP at a function in Hubli in Karnataka. The event was attended by state leaders, including the state party president, Prahlad Joshi, former Chief Minister Jagadish Shettar and former Deputy Chief Minister K S Eshwarappa.
"I have joined the BJP unconditionally to campaign for the party anywhere and ensure Narendra Modi becomes prime minister to provide a decisive leadership," Mr Muthalik told reporters.
Soon after, Goa Chief Minister Manohar Parrikar opposed his party, the BJP's decision to induct Mr Muthalik. "They shouldn't do it, his membership should be cancelled. I have asked central leadership that he should not be allowed to join, and his membership should be cancelled," the Goa Chief Minister said.
BJP spokesperson Nirmala Sitharaman said that instructions have been given to the state unit that Mr Muthalik's entry will not be acceptable. "The central Party has clearly rejected the admission of Pramod Muthalik... This was something the central party felt strongly about and has instructed the state party," she said.

Mr Muthalik had courted a huge controversy in 2009 after members of his Sri Ram Sene carried out an attack on a pub in Mangalore during which young women were dragged out. He had also carried out a campaign against the celebration of Valentine's Day.
Mr Muthalik, who was arrested after the incident, had claimed that their actions were "aimed at protecting the women". The then Karnataka chief minister BS Yeddyurappa had said the Sri Ram Sene had "nothing to do" with the BJP or its ideological mentor, the Rashtriya Swayamsevak Sangh (RSS).
The Congress slammed the BJP inducting Mr Muthalik, saying that its leaders, including Sushma Swaraj have been talking about women's empowerment but their party was now "glaringly opposing women's emancipation". Congress' Ambika Soni said people should send a firm message in the coming election that "any party which honours, appeases people who publicly violate the self-respect and dignity of women are not going to be tolerated".
"Pramod Muthalik's induction into BJP manifests the domination of RSS-Narendra Modi on what's left of a disintegrating BJP; old & fascist, (sic)" tweeted Congress spokesperson Sanjay Jha.
Aam Aadmi's Party's Ashutosh took at dig at BJP's prime ministerial candidate Narendra Modi over his party's decision to induct Mr Muthalik. "Modi wants to become PM at any cost and he can make any compromise for that . Muthalik joining proves that.#muthalikBJP, (sic)" he tweeted.
Born in a Marathi family at Hukkeri in Belgaum district bordering Maharashtra, Mr Muthalik had joined the RSS in 1975 and was also associated for some time with the Bajrang Dal. Today was the first time he was officially being associated with the party.