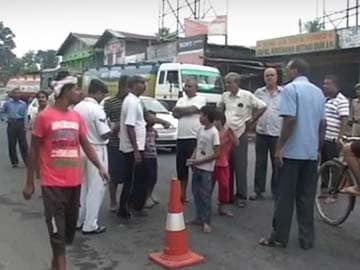 Guwahati:
Curfew has been re-imposed in Golaghat, the epicentre of the violence that has hit the border villages of Assam and Nagaland over the last few days. 15 adivasis or tribals from Assam have died in ethnic clashes with Nagas in the last one week.
Here are the 10 latest developments in the story
Even though the situation is calm, tension still prevails due to apprehensions of fresh flare-ups. Curfew was relaxed for six hours today - from 6 am till noon. It has now been re-imposed till 10 pm.

The police continue to patrol the area. Schools and colleges remain closed.

The Centre has asked the two states to be "proactive" in controlling the violence and has sought immediate resettlement of about 10,000 people displaced by the clashes. It has asked both Nagaland and Assam to evolve a joint mechanism to address the issue.

After talks with Minister of State for Home Kiren Rijiju, who visited Guwahati yesterday, the chief ministers of Assam Tarun Gogoi and his Nagaland counterpart T R Zeliang have agreed to initiate measures to de-escalate the tension at the border of the two states. The two states have agreed to re-energize border cooperation agreement making it mandatory for senior district officials to meet regularly.

A 12-hour Assam bandh called by the Opposition Asom Gana Parishad (AGP) and the Assam Tea Tribes Students' Association paralysed normal life across the state yesterday. There was however no report of any untoward incident.

All shops, business houses and educational institutions remained closed and vehicular traffic remained off the roads. Rail and air services, however, remained unaffected.

The bandh was called in protest against police action on protesters on Tuesday and Wednesday. The police opened fire on both days; while it stressed on Tuesday that no one was injured in firing, three people died on Wednesday.

Those protesting against the killing of the nine Assamese, allegedly by Naga insurgents, clashed with the police. On Tuesday, a 4000-strong mob with bows and arrows and spears attacked the police, which then opened fire.

On Wednesday, protesters defied curfew orders to come out on the streets, and block national highways cutting off the entire Upper Assam, Nagaland and Manipur from the rest of the country. The Numaligarh Oil Refinery in Golaghat has been closed down. Hundreds of oil tankers that carry petroleum to the rest of the country are still lined up along the NH 39 and 37 as the blockade by protesters still continues there.

Parts of the border between Assam and Nagaland have been disputed for about 50 years. The dispute has led to several bouts of violence in the past.