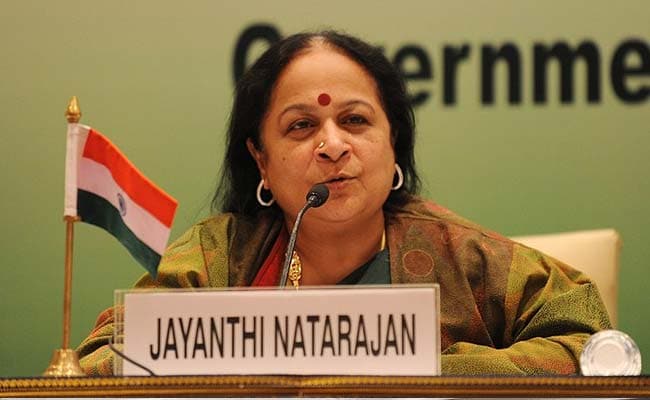 New Delhi:
Former union environment minister Jayanthi Natarajan has scripted a major political storm with a letter that she wrote to Congress president Sonia Gandhi making a strong attack on party number 2 Rahul Gandhi. Ms Natarajan resigned from the Congress today.
Here are five explosive quotes from her letter
During my tenure as Minister, it was the clear and specific policy of the party, to take all steps to protect the environment, and carry forward the legacy of Smt. Indira Gandhi and Shri Rajiv Gandhi, to preserve the environment, and keep a balance between environment and industry. As Chairperson NAC, you have written several letters to me regarding projects in the Environment Ministry, and protection of tribal rights, and I have always kept you briefed that due care was being taken by me to protect the environment. I received specific requests [which used to be directives for us] from Shri Rahul Gandhi and his office forwarding environmental concerns in some important areas and I took care to honour those "requests."

"I was carrying out my duties as Minister of State (I/C) Environment and Forests in the routine course, when suddenly that day on December 20, 2013, the then PM, Dr. Manmohan Singh summoned me to his office. When I entered he stood up from his chair, looking tense and grim, and uttered these exact words. He said "Jayanthi, I have been told by Congress President, that your services are required for party work." I was puzzled, and I said, "Yes Sir. So what should I do?" He replied, "She wants you to resign." I was shocked and said, "Resign Sir? But when?" He replied "Today." I once again asked him if this was what the Congress president wished. He answered in the affirmative. Unsuspecting, and trusting you totally, I did not utter a single word, but smiled at him and said I would comply with the wishes of the Congress President."

"To my shock, I received information that persons from the office of Shri Rahul Gandhi were calling the media and planting stories that my resignation was NOT for party work. My sources were impeccable, and I felt unease. Thereafter, the media was flooded with negative stories about me. The same day, namely, the day after I resigned, Shri Rahul Gandhi addressed a FICCI meeting of industrialists, where he made uncomplimentary references to delays in environmental clearances, and the adverse effects upon the economy, and assured the corporate world, that the party and government would henceforth ensure that there would be no delays, and bottlenecks for industry. After being alerted by the media, I saw the entire speech on YouTube. It was then that some in the media questioned me if I had been asked to resign immediately, to enable Shri Rahul Gandhi to address FICCI and the corporate world with the news of my resignation in the background."

"I was never a bottleneck, nor was I ever responsible for unwarranted delays in major projects, and I can prove this at any time. I was shattered by the attack upon me, and bewildered. I wrote a passionate message to Shri Rahul Gandhi, about my removal as Minister, and his speech, at FICCI, and asked him what wrongdoing I had committed to warrant this treatment. I said, that I should have been asked for an explanation, IF I had done anything wrong, as even a murderer has his say in court, and here I don't even know what, if any wrong doing was committed by me. I told him that my family legacy and my name would be forever ruined, and all I had done was my duty. I asked him to tell me, what wrong I had committed. I asked for time to meet him. He replied that he was "running a little busy" at that time, but that he would meet me a little later. Despite several requests, that day never came. Not till this minute.

I also feel that I have been pressurised and used to lead issues which I considered wrong. An instance: While I was still a Minister, an important matter which has caused me great agitation is the fact that I was called upon to attack the present Prime Minister Shri Narendra Modi on what is referred to in the media as 'Snoopgate.' Despite the fact that I initially refused, because I thought that the party should attack Shri Modi on policy and governance and not drag an unknown woman into a controversy, Shri Ajay Maken telephoned me on November 16, 2013, while I was on tour and asked me to come to Delhi immediately to address a press conference on the issue. I expressed my disinclination to do this, and refused the assignment, mentioning that I was a Minister at that time, and this should not be taken as the point of view of Government. I suggested perhaps an Official Spokesperson should do the Press Conference, if so desired. Shri Maken told me once again, that this was a decision taken at "the highest level" and that I had no choice in the matter.