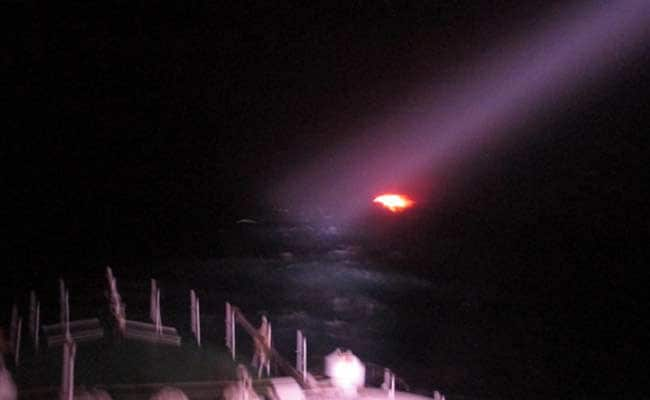 New Delhi:
A Pakistani fishing boat laden with explosives bound for India blew up late on New Year's Eve, killing all four people on board, after the Coast Guard tried to stop and search it, officials said today.
Here are 10 developments in this story:
Indian intelligence said the crew planned "an illicit transaction" when the boat was intercepted on New Year's Eve in the Arabian Sea, 365 km (225 miles) off the Gujarat coast.

A statement from the government said four men were seen on the fishing boat, which did stop eventually after warning shots were fired. However, the four-man crew then hid themselves below deck before setting the boat on fire which triggered a large explosion.

The boat's explosion into flames was deliberate, top Coast Guard official Kirpa Ram Nautial told NDTV.

"Due to darkness, bad weather and strong winds, the boat and persons on board could not be saved or recovered. The boat burnt and sank in the same position, in early hours of January 1," said the statement.

An intelligence tip-off warned the navy at about 9.30 am on December 31 of conversations that mention "costly cargo" was headed for the Gujarat coast.

Indian Coast Guard ships and aircraft then located the unlit fishing boat near the maritime border with Pakistan, around 365 kilometres (225 miles) from the coastal state of Gujarat. A one-hour "hot pursuit" followed, said the government.

The boat first ignored warning shots although later it did come to a stop. Then it went up in flames and sank at about 3 am on January 1.

Ajay Kumar Pandey, a spokesman for the Indian Coast Guard, declined to comment when asked whether the explosives believed to be on board the fishing boat, which sank, were intended for use in a possible terror attack.

In 2008, Pakistani militants managed to sneak into Mumbai on a rubber boat and began a 60-hour siege that left 166 people dead in India's worst-ever terror attack.

Since then, India has upgraded coastal security, spending money on patrol vessels, helicopters and building a coastal radar network.
Post a comment