Sitting on the ground in a village in EasternMaharashtra, his sleeves folded and with sweat on his brow, what actor Nana Patekar
said
seemed hyperbole. His premise - if farmers, unable to survive the vicious cycle of debt, could kill themselves, they could kill others too. And if thoughts of a 'revolution' persisted, they could turn to extremist ideology.
Except farmers are not turning to violence. They haven't gone berserk damaging public property. The more than 30,000 protesters who have marched 180 kms from Nashik to Mumbai have been totally peaceful and dignified.
I still believe the possibility of farmers turning to Naxalism is remote. But could Nana's prophetic words - the beginning of a 'revolution' - really turn into a dark and tragic reality? If so, can our politicians and civil society act decisively now to better the lives of farmers?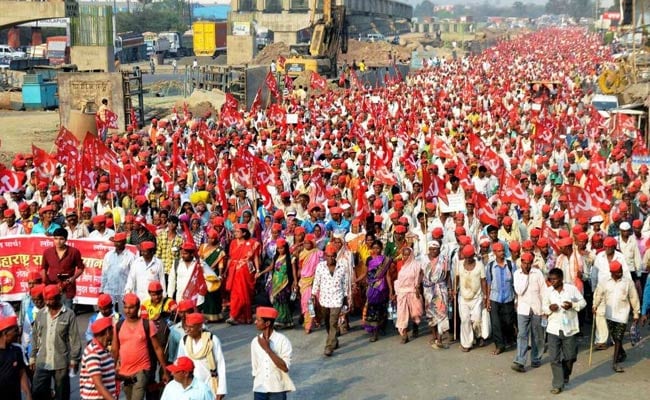 As a journalist, I have made dozens of trips to India's hinterland in Maharashtra in the past decade. Vidarbha, Marathwada, North Maharashtra. If it wasn't the failing monsoon and drought turning their dry patches into killings fields, then it was unseasonal rains, floods and hail storms which damaged their crops. Sometimes the drought would wilt their cotton fields, reducing their produce to just a few quintals. Or sometimes the attack by pink bollworm would eat into their harvest. There is no escaping the truth: their problems are real and India is a long way from giving a decent lives to our farmers.
Several of their demands are inter-related. Key among them is the right to access, manage and govern forest land and resources as allowed under the Forest Rights Act. Over 11 years after it became a law in 2006, as this
report
points out, Maharashtra is Number One in recognising these rights. However, only 15% of these rights have been conferred in Maharashtra. The national average of a mere 3%, in comparison, shows how poorly India fares when it comes to empowering
Adivasis
or tribals.
The other immediate concern for farmers is about the increasing input costs of their produce. This has been an issue which all governments have failed to address adequately.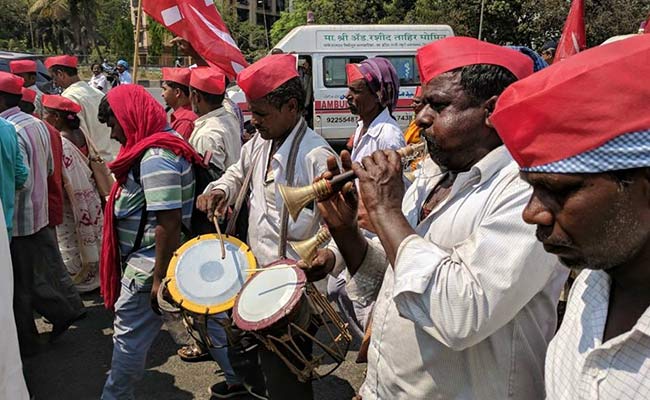 If a packet of biscuits costs Rs 15 but cannot be sold for more than Rs 10, how is it viable for the manufacturer to continue his business? The basic problem is that the returns from farming are simply abysmal. The farmer makes almost no money. Chief Economic Advisor, Arvind Subramanian recently
said
that the average monthly earning of a farmer is a mere Rs 1,600.
Prime Minister Narendra Modi during the election campaign in 2014 had promised farmers that he would ensure that the Minimum Support Price (MSP) was 50% above the cost of agricultural produce, as also recommended by the M.S. Swaminathan Committee.
One of main reasons for this not materialising is the argument that it could distort both the domestic and international markets. Farm activists insist the government must take the load of the additional burden of increase in rates and it can also be partially passed on to consumers. That would mean an increase in prices of vegetables and grains which no government is willing to do.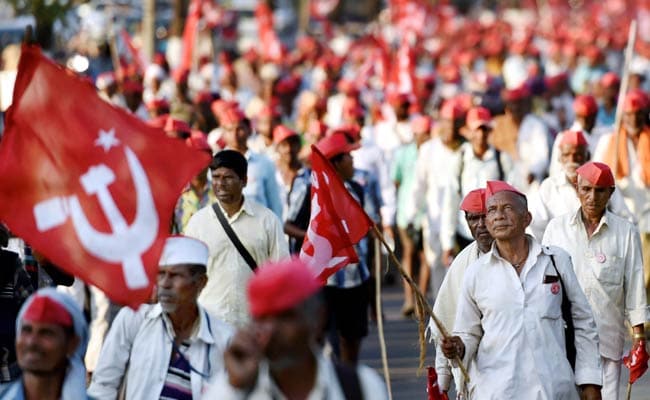 While the Maharashtra government has been able to resolve the issue of water scarcity to an extent, thanks to its micro-irrigation scheme
Jalyukt Shivar
, the 34,000-crore loan waiver which was sanctioned in March, 2015 has been only partially disbursed and has not helped the farming community significantly. The allegation remains that the waiver was not implemented properly and has taken too long to reach farmers. Whatever the case, farmer suicides haven't abated.
The argument that this is a politically-motivated movement is not false. It is led by the Left. But to believe that only a political call has galvanised so many farmers and
Adivasis
would be giving too much clout to the Left which isn't true on the ground. Moreover, while in the opposition in Maharashtra, the BJP led farmer protests and brought about positive change. So it hardly matters which political party is leading this. The issue at hand is whether or not farmer grievances are valid.
But what's critical to remember is that the agrarian crisis is not the making of one government. Poor strategies and policies over decades have added up and the eruptions we see every now and then reflect just that.
(Tejas Mehta is former Bureau Chief, NDTV 24x7 and is now a political commentator.)
Disclaimer: The opinions expressed within this article are the personal opinions of the author. The facts and opinions appearing in the article do not reflect the views of NDTV and NDTV does not assume any responsibility or liability for the same.
Get Breaking news, live coverage, and Latest News from India and around the world on NDTV.com. Catch all the Live TV action on NDTV 24x7 and NDTV India. Like us on Facebook or follow us on Twitter and Instagram for latest news and live news updates.