Before I started for the rally, I had applied a generous amount of sunscreen on my face, my mother had given me a bottle of ORS to sip through the walk so the scorching summer sun did not induce a migraine. I had my head and face covered with a scarf and my Nike running shoes in place.
My urban, sheltered and privileged life was an embarrassment when I walked with Ujjwala, who had left her month-old baby at home to march with her fellow villagers. I notice a drop of sweat escaping from her hairline and offer her my ORS. She laughs and tells me in Marathi
"Nako tai, aamhala savay aahe, tumhi ghya
(Thanks, sister, but we are used to it. You need it)". Ujjwala has a bag full of documents, mostly applications to the local bank. Some are letters in Marathi from her local
panchayat
, some from the village registrar. Ujjwala delivered a baby last month, she was admitted to the local hospital right after for acute anaemia, the baby was born underweight. She could not breastfeed her child because nutritious food is a luxury, three meals are a struggle and some days, her family survives on a single meal of rice and jaggery.
Last year, her small farm was destroyed by pests leaving them with almost no produce. The loan that her family took from a cooperative in the district has been unpaid. She asks me if I know anybody in the government to whom she can hand over the applications. I try to offer her some money.
"Nako re tai"
, she refuses. "Your money won't even last us a month, only the government can help, get them to listen to us if you can.'
Walking right behind her are a bunch of young boys in red caps and flags raising slogans of
"Lal salaam"
. They are singing a Dilip Kumar song from
"Mazdoor"
. They laugh when one of them misses a line and switch to a Marathi song.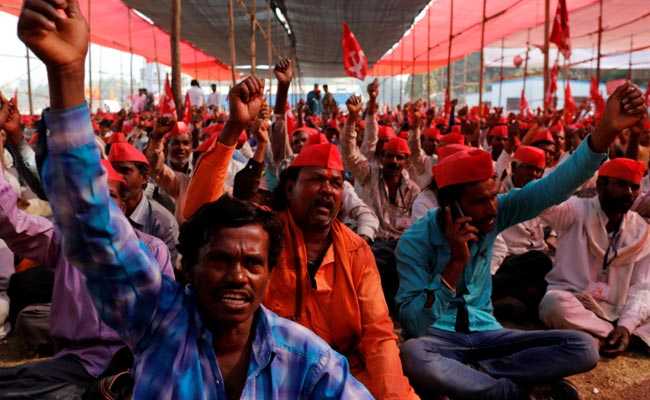 I ask them if they are members of the Left. They smile and ask me if I work for a TV channel. Another says "
Didi, hum log shetkari log hai
(we are farmers)".
It is late evening and some of the marchers have decided to stop by a tea stall on the road. The eldest of the group is presumably in his late 70s, a volunteer offers him tea in a disposable cup. Somebody passes on a packet of Parle-G biscuits. I ask him if it was important for him to walk all the way to Mumbai from Nasik. He says he is not alone, most of his friends are walking along. "Last night my legs froze." He tells me about his diabetes which made it difficult for him, every two hours he had to look around for a toilet. "The people of your city are good people, they gave us food and water. We are here to ask your leaders sitting in
Mantralaya
(the government headquarters) to be good to us. They have forced us to walk all the way from our villages to your city. Even if I fall sick, I will know that I did something for my son and his children. Sitting at home is not going to pay our loans."
He is hopeful, he shows me his Aadhaar card and that of his grandson. "I have all the documents, everything they need. I have got all papers, I have got my voting card too."
Meanwhile, Shiv Sena leader Uddhav Thackeray's son Aditya Thackeray, who is President of the youth wing of the party, is already addressing the rally. "They look at your red flags, I look at the red colour of your blood," he tells them, taking potshots at the BJP whose leaders have called the rally a Leftist attempt to destabilize the government - of which his party is a member.
MNS leader Raj Thackeray who is almost slipping into political oblivion also makes an appearance. I ask those around me if they would want the Shiv Sena or Congress to support their rally and they tell me the colour of the flag does not matter. "Manmohan Singh was the son a farmer, Modi claims to be one of us, he rose from being a
chai-wala
. How does it matter what party they belong if they have no concern for us? Anyone who can bail us out of this distress will be our saviour."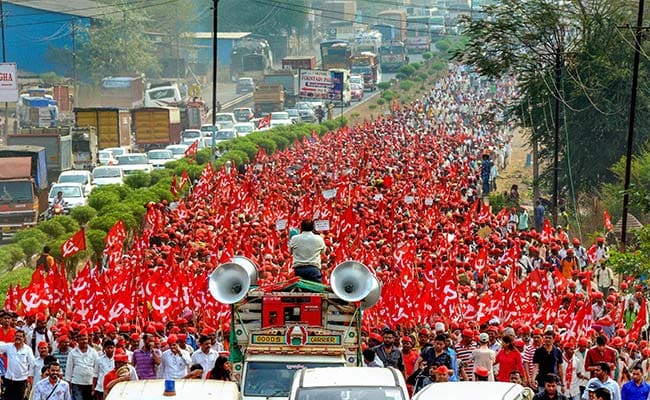 WhatsApp groups and Twitter handles have been activated. Messages float around that the protests have been planned by Maoists to destabilize the BJP led government in the state and at the centre. Poonam Mahajan, BJP MP from Mumbai, tells reporters outside parliament that the farmers protests have been propelled by "urban Maoists". If not for the ongoing parliament session, Poonam could have been in Mumbai and seen the blistered feet of the farmers who passed by her constituency.
In June last year, Maharashtra Chief Minister Devendra Fadnavis had announced a complete loan waiver for farmers following which state peasant leaders had called off their protests. The farm waiver was to benefit 89 lakh farmers, but the organisers of the march told the media that only 31 lakh farmers have benefited from what they described as an arbitrary loan waiver procedure.
Since January this year, senior leaders from the NCP, Congress and the Shiv Sena have been talking of a statewide agitation. The All India Kisan Sabha of the CPI(M) started mobilizing farmers across the state systematically with cadres visiting villages and taking details of loans from villagers.
As I write this the farmers, have called off their protest. Chief Minister Fadnavis has agreed to meet all their demands in a move that was much anticipated. The state along with the country will face elections next year. The voices of the farmers are now in our living rooms, not just those of Mumbaikars but through the country - everyone has been watching the agonizing march of distress.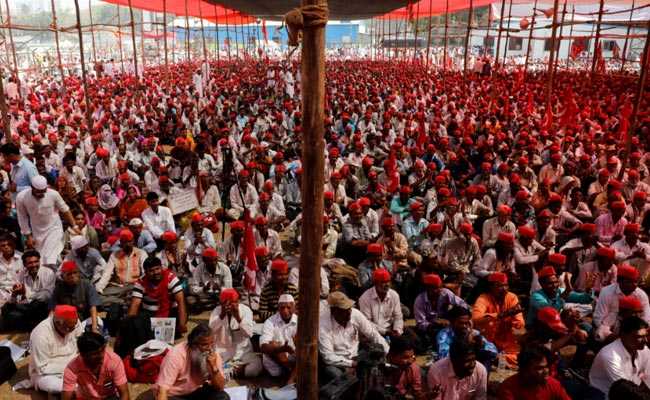 The WhatsApp forwards on development that used to pour in were replaced by images of tired faces and scarred feet. This movement has the potential to galvanise and give voice to an agrarian distress that has overtaken the country. For now, Modi and Fadnavis have managed to change the direction of the wind. But the peasants from Maharashtra have given a direction to the rest of the country, made it clear that they will no longer be taken for granted.
Promises have been made in the past and it is very likely that now, like then they will not be fulfilled. It is also likely that compromises could be made by leaders, that the farmers could return to our indifferent city the next year to serve us another reminder of their pain. But the stories of suffering, of farmer suicides which were restricted to an insignificant corner of a newspaper, has now become a talking point. It brings with it a much needed reassurance that the country has not lost its soul.
(Rana Ayyub is an award-winning investigative journalist and political writer.)
Disclaimer: The opinions expressed within this article are the personal opinions of the author. The facts and opinions appearing in the article do not reflect the views of NDTV and NDTV does not assume any responsibility or liability for the same.