Latur, Marathwada:
Clad in a
kurta-pyjama
, his sleeves rolled up, actor Nana Patekar holds up a mike and reads out names of farmer suicide widows. With a gentle touch of his hand on their shoulder, the 64-year-old doles out cheques worth Rs 15,000 followed by a quick
namaste
. Helping farmers, Mr Patekar says, is now his life's mission.
In a move that would make him appear to be a misfit in Bollywood, Mr Patekar spends his weekends in Maharashtra's suicide belts of Marathwada and Vidarbha.
"Committing suicide is no solution. I urge all farmers not do this," the actor tells the audience at a hall in Latur.
"I couldn't sit at home seeing farmers die," he later explains, speaking to NDTV, as he squats on the ground of his hotel compound. "Imagine how it feels when over a 100 young widows are lined up, waiting for these cheques. I felt troubled. There is no bigger shame for them than this."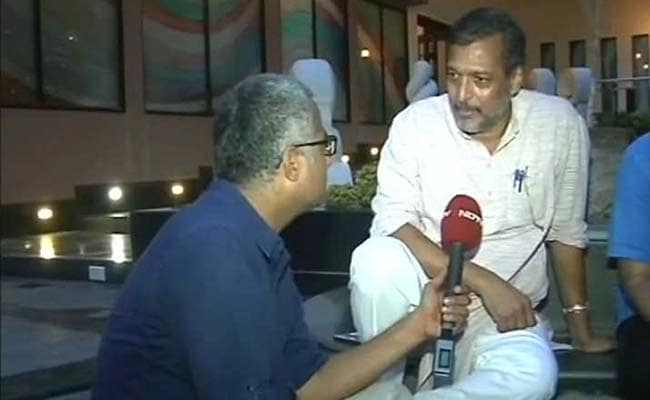 Mr Patekar says it was popular Marathi actor Makrand Anaspure who urged him to join the cause.
"It hasn't rained so one can't blame the government. But BJP, Congress and NCP have to join hands for the sake of farmers," he explains.
While Mr Patekar initially began by diving into his own earnings, now contribution from well-wishers across the world is aiding their movement.
But the scale of the agrarian crisis, Mr Patekar believes, could have dangerous ramifications.
"There could be a farmers' revolution. If farmers can kill themselves, they could kill others too and if this thought of a 'revolution' persists, farmers could become Naxals," he claims.
While media, he insists, has largely focussed on "Indrani Mukerjea murder story", he dwells on his own past to understand what ails farmers. "I too came from a poor background where I began working at the age of 13 and I ate just once a day," he says, adding "I understand their pain but I didn't commit suicide. I could never give up."
Their efforts have ensured over 300 widows have already been given financial aid and hopes to support a total of 700 widows.
"People have to help farmers. I'm not appealing. I'm asking them - help farmers," Mr Patekar says.