New Delhi:
Well, first and foremost you have to be on time because there is that one percent chance that the superstar may turn up as per schedule but that hardly happens - once in a year may be. So if you are covering a Salman Khan event as a journalist and you reach on time, what do you do for the next hour or so? Not much, chat with other reporters, keep looking at your watch, do some social media and keep checking with the security guards, "
Kab aaega
?" And they have a standard reply, "
Buss, bhai pahuchne hi wale hain
!" (Bhai is about to reach). You then keep staring at the event management team that's right in front of you, they are doing the audio and video checks. Yes, you are also a part of the dry run.
What drives most of us up the wall is something that happened even yesterday at
the trailer launch of Tubelight
. For over an hour, while we were seated, we had to listen to the same song over and over again - yesterday, the song
Radio
from
Tubelight
played on loop. If you watch the video of
Radio
, it's quite decent because Salman is charming in it but trust me, playing that song on a loop to a crowd in a closed room is just torture. You are inside a movie hall, you have managed to get a decent seat so you can't even get up and take a walk, friendly security guard will warn you, '
jaao mat, bhai aa gaya to
!" (Don't leave, what if
bhai
comes now!) That's true, if
bhai
walks in, while I'm walking out, I will be run over by his security guards and his unstoppable entourage.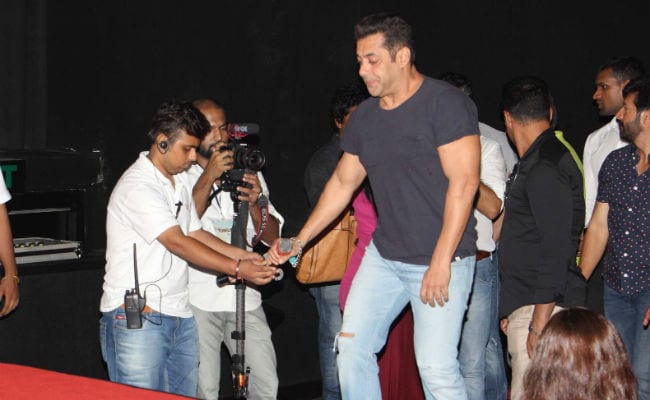 A couple of times there will be some false alarm that Salman Khan has come and suddenly the energy levels in the room will go up, all eyes towards the entrance, photographers all set to click, video cameras are already rolling to capture his entry but that noise at the entrance was because a lady dropped her popcorn at the door - she was trying to carry popcorn, Pepsi,
samosa
and a bottle of water in one shot. Now, the housekeeping staff has to clear that ASAP because, "what if
Bhai
walks in?"
Bhai
finally walks in when it suits him and an over enthusiastic set of entertainment journalists get excited. Salman Khan takes the stage and cracks the silliest jokes and some members of the media can't stop laughing, not sure if it's the wait that got to them or they are genuine fans. After attending many events of Salman Khan, you know exactly how it plays after this. He makes fun of one of his own, at the trailer of
Tubelight
it was music director Pritam, Salman told him, "
Teen gaane abhi diye nahi hain aapne, hum wait kar rahe hain, film ready hain
." (You still have to give us three songs, our film is almost ready.) Out of embarrassment, Pritam just laughs and members of the media laugh at him. Then Salman turns towards the media with his wicked smile, "
Gaane diye nahi hain, batao
!" Of course, it's one of the best jokes of the evening.
It's not just Salman's fault, I have to confess, some of the questions are absolutely ridiculous. Someone asked him about his mother's name on the poster as one of the producers, "
Aapki maa Salma Khan ka bhi naam poster pe hai, aapne unhe manaya naam daalne ke liye
?" Salman obviously didn't know what to say to this. He said, "What a waste of question is this!" Have to agree with him here. Next, a lady with the mic asked a question to Kabir Khan and then spoke about the Indo-China war because her father was also a part of it and it was important for everyone at the
Tubelight
trailer launch to know that, right? Salman joked about her age, "You remember everything because at that time you must be 25." She immediately replied, "
Nai nai, main abhi 70 ki thodi hoon
!" (No no, I'm not 70 years old now) And once again everyone cracks up.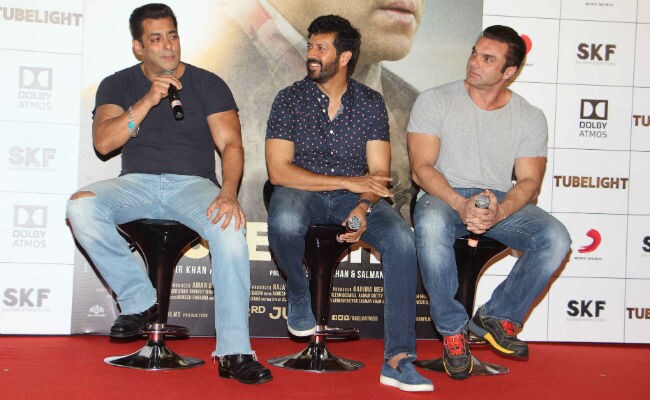 Thankfully, there is always that one person who tries to balance the level of IQ in the room. This time, it was director Kabir Khan, who tried his best to give sensible answers to everyone who asked him a question.
At one point of time, Salman Khan's films were predictable - then he found Kabir Khan. Here's hoping he finds someone to make his events as interesting as his recent set of films.
(Rohit Khilnani is a senior entertainment journalist based in Mumbai, he is also the author of the book I Hate Bollywood. Information about box-office collections and whereabouts of films stars is at the back of his hand. He starts and ends his day by taking his dog, for walks)
Disclaimer: The opinions expressed within this article are the personal opinions of the author. The facts and opinions appearing in the article do not reflect the views of NDTV and NDTV does not assume any responsibility or liability for the same.
Get Breaking news, live coverage, and Latest News from India and around the world on NDTV.com. Catch all the Live TV action on NDTV 24x7 and NDTV India. Like us on Facebook or follow us on Twitter and Instagram for latest news and live news updates.