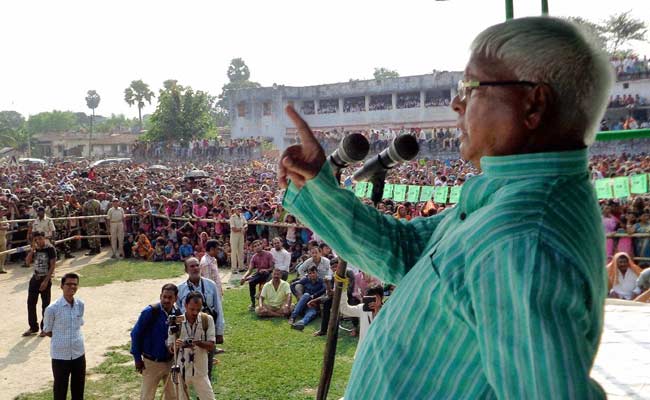 Hajipur:
RJD chief Lalu Prasad, who was booked for allegedly making casteist remarks during a poll meeting, has signed a bond agreeing to conditions such as visiting police station when called and assisting cops in the investigation of the case.
Mr Prasad, who has been charged under bailable sections of the IPC, signed the bond paper under relevant sections of the CRPC two days ago, Vaishali Superintendent of Police Rakesh Kumar said today.
Since the RJD chief has signed the bond, no action will be taken against him till the investigation in the case is completed, the police officer added.
By signing the bond paper, Mr Prasad has agreed to laid down conditions like visiting police station whenever called, assist police in investigation and not tamper with evidence.
A case was registered against Mr Prasad on last Tuesday for his alleged casteist remarks after the Election Commission prima facie found them violative of the model of conduct for the Assembly elections in Bihar.
In a poll meeting at Raghopur on September 27, the RJD supremo had allegedly described the Assembly elections as a direct fight between "the backward castes and forward castes" and gave a call to Yadavs and other backward castes to rally behind the Grand Secular Alliance to defeat the BJP-led NDA.
The Election Commission has issued notice to Mr Prasad to file his reply in the case by October 6.