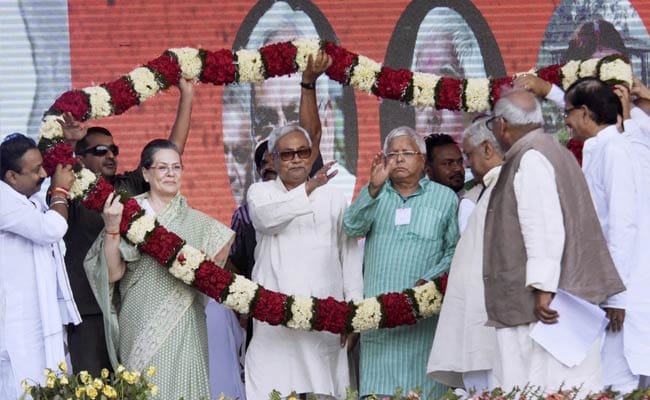 New Delhi:
Bihar's grand alliance of JD(U)-RJD-Congress today complained to the Election Commission (EC) about BJP workers from the state allegedly being taken to saffron party-ruled states for "training" by special trains at concessional rates in violation of the norms and demanded action under the anti-graft law.
The alliance has alleged "illegal" use of government machinery as the railways had allowed 60 per cent concessions to passengers travelling by these special trains, which caused losses to the national exchequer.
An alliance delegation met the poll panel and sought action against the BJP under the Prevention of Corruption Act, IPC and Representation of People Act for various violations.
Claiming BJP workers had boarded four trains from Patna for Raipur, Mumbai, Bhopal and Jaipur between September 7 and 13 for training in "booth management", the combine alleged "It amounts to several offences...offences under Prevention of Corruption Act, IPC etc. It is not a case of mere breach of model code of conduct.
"It is a clear case of bribery. Who paid for these excursions? Except Bribery, there can be no other term given to these blatant violations of model code by the BJP," noted laywer and Rajya Sabha member KTS Tulsi said at a press conference at Congress headquarters.
In a joint press release, the three parties represented by AICC general secretary in-charge of Bihar CP Joshi, the party's communication department chief Randip Surjewala, JD(U) parliamentarians KC Tyagi and Pawan Varma and RJD's Manoj Jha also demanded that the Railway Ministry immediately withdraw the concessions given.
"We demand the Railway Ministry to constitute an inquiry into the collusion of officials, who were obviously working under Modi government's diktats in granting this illegal concession," they said.
"The Indian National Congress, JD(U) and RJD are deeply concerned at such grossly illegal and collusive activities involving the BJP and the central government using public money and in toal violation of the EC's guidelines and the Model Code of Conduct, completely taking away from the EC's professed goal of creating a level playing field for all political parties," the release issued after their meeting with the Commission said.
A video clip of the reported train journey was also played at the briefing.
"Four trains with 18 coaches each are taking BJP workers to BJP ruled states. Why did Railways give 60 per cent concession," asked Mr Varma.
Mr Tyagi said, "We have met Election Commission and presented a memorandum which lists evidences against BJP for violating Model Code of Conduct. BJP is misusing Railway Ministry and blatantly violating the Model Code of Conduct."