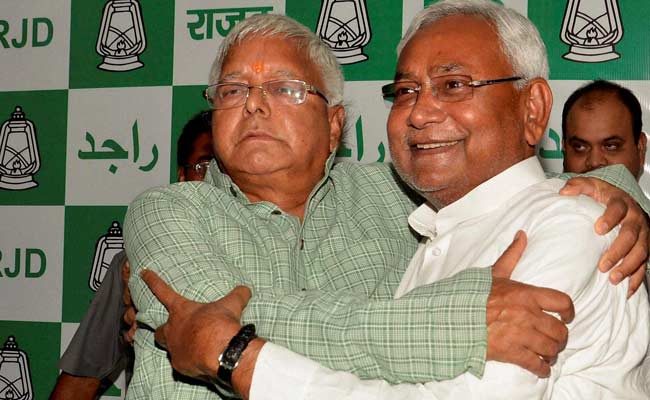 Patna:
Bihar Chief Minister Nitish Kumar's oath-taking ceremony is being seen as "a new beginning of opposition unity in the country," with a number of leaders confirming their presence for his oath-taking ceremony later this month.
Congress chief Sonia Gandhi and party vice-president Rahul Gandhi will be attending the ceremony along with Delhi Chief Minister Arvind Kejriwal, West Bengal Chief Minister Mamta Banerjee and Assam Chief Minister Tarun Gogoi.
Uttar Pradesh Chief Minister Akhilesh Yadav and Odisha Chief Minister Naveen Patnaik will also attend the swearing-in ceremony.
Invitations have also been sent to former Prime Minister Deve Gowda, former Jharkhand Chief Ministers Babulal Marandi and Hemant Soren, as well as Indian National Lok Dal leader Abhay Chauthala.
"We have decided to invite all leaders opposed to BJP to attend the oath-taking ceremony of Nitish Kumar," JD(U) spokesperson Ajay Alok said here on Thursday.
RJD chief Lalu Prasad and JD(U) president Sharad Yadav will be the main guests at the function.
JD(U) general secretary KC Tayagi has said that "all the big leaders opposed to the Bharatiya Janata Party's (BJP) brand of politics will come-together to express their show of unity during the oath taking ceremony."
"It will be a new beginning of opposition unity in the country," he said.
Nitish Kumar on Wednesday said he will recommend dissolution of the state legislative assembly on November 14 after holding the last meeting of his cabinet. He will stake claim to form his new government after a joint meeting of the grand alliance on the same day.
According to leaders in the JD(U), Nitish Kumar will take oath as the chief minister along with a 36-member council of ministers after the Chhath festival to be celebrated in the third week of November.
The Grand Alliance routed the BJP in the recently held assembly elections in the state, the results of which were announced on Sunday. The RJD emerged as the single largest party with 80 assembly seats, followed by the JD(U) with 71 and the Congress with 27 seats.
Lalu Prasad's RJD is likely to have 16 ministers, while JD(U) and Congress are like to have 15 and 5 respectively.