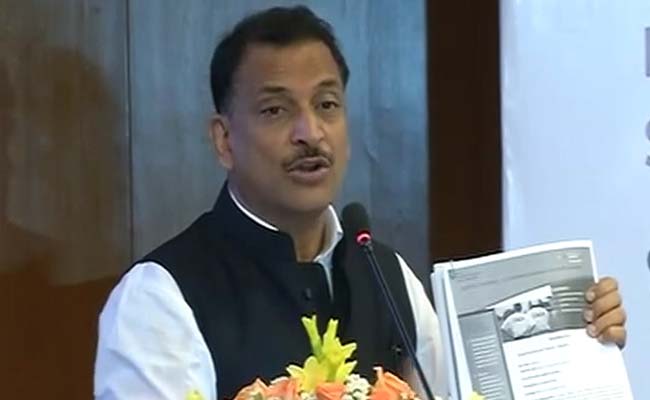 New Delhi:
Union Minister Rajiv Pratap Rudy today found himself in a controversy over sharing on Twitter a screenshot of Pakistan's daily Dawn website carrying Nitish Kumar's ad of vote appeal, prompting JD (U) to launch a sharp attack on him and seek his immediate sacking.
Mr Rudy, who is Minister of State (Independent Charge) for Skill Development and Entrepreneurship, got into the row when he shared the screenshot of Dawn website on his Twitter handle showing a poll advertisement of Nitish Kumar.
"Nitish advertises in PAKISTAN daily '"DAWN" e-edition to woo voters in Bihar. Why Pak? Whom does he want to reach?" Mr Rudy tweeted. However, the remarks led to an outrage on social media, after which he deleted the post.
Scores of twitteratis castigated Mr Rudy over his "ignorance" about Google ads and questioned his knowledge of the cyber world arguing that Google provides ads on any site based on the reader's locations and browsing habits and insisted that it's not an ad in "Dawn".
JD (U) general secretary KC Tyagi wondered how the minister can promote skills in the country if he himself is so "unskilled".
"After BJP chief Amit Shah's statement that there will be "firecrackers in Pakistan" if NDA loses polls in Bihar, Rudy has accused Kumar of giving an ad in Pakistan's Dawn newspaper, which is ridiculous and betrays his ignorance. Rudy had on October 30 evening posted this particular screenshot of Dawn newspaper on his Twitter account, which was deleted after it was mocked at on social media."
"The Prime Minister is talking big about digital India but this unskilled attempt by his Skill Minister has raised a question mark on his campaign. What role such ministers will play in skill development when they betray such lack of skills. He should have known that such advertisements are part of automatic Google ad," Mr Tyagi said.
Asking for "immediate sacking", the JD (U) general secretary said BJP should "explain why the statements of its senior leaders nowadays are Pakistan-centric".