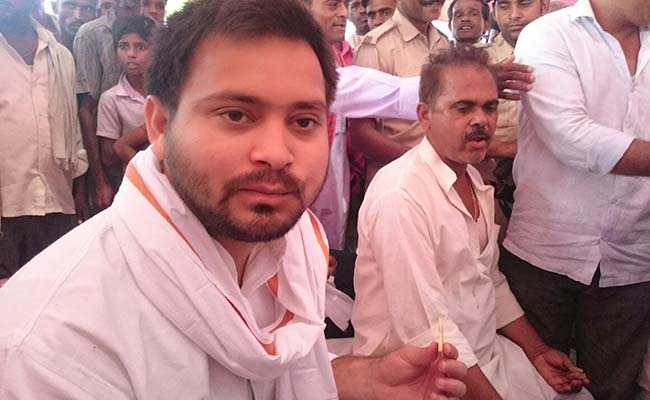 Patna:
The Bihar assembly election will determine the future of India and Prime Minister Narendra Modi, says the cricketer-turned-politician son of Rashtriya Janata Dal (RJD) leader Lalu Prasad.
Tejaswi Yadav, 26, who once played with Indian Test cricket captain Virat Kohli, is confident that the Grand Alliance of the RJD, the Janata Dal-United and the Congress will win the October-November polls.
The importance of the five-phase election cannot be confined to Bihar, said the school dropout from Delhi who is contesting the election along with his elder brother Tej Pratap, both widely seen as Mr Lalu Prasad's successors in the RJD.
"The election will decide the fate of the country. Modi's future will also be decided by the Bihar election result," the younger Yadav, clad in a light colour cotton kurta pyjama, told IANS at the sprawling official residence of his parents.
"It will determine the policies and decisions of the government of India on land acquisition and reservation (of jobs and in education) for Dalits and OBCs."
Mr Tejaswi Yadav, as he is widely known, is contesting his first election. At home with both Hindi and English, he launched a bitter attack on Mr Modi, the Bharatiya Janata Party's main face in the Bihar battle.
"The BJP has double standards and a double face," he said.
"In his Lok Sabha election campaign, Modi promised two crore (20 million) jobs to youths every year, return of black money from abroad, Rs.15 lakh to each person from that black money, and control of price rise, and an end to corruption.
"Nothing has happened... Go and ask anyone from villages and towns, people will echo what I say."
Mr Tejaswi Yadav is contesting from the rural assembly constituency of Raghopur, a family fiefdom.
"We have been fighting for the poorest of the poor, the backwards and for social justice," he said, explaining his father's and the RJD's ideology of social justice.
The RJD leader denied charges that a victory for the JD-U and RJD would mean a return of 'jungle raj' in Bihar.
"Our rivals call us 'jativad' (casteist) as if we created caste. All of us know who has created caste and for what.
"Laluji only tried to give power to castes that were denied a share in development."
Like religion, caste was a hard reality, he said. "Most people have been guided by it from birth to death.
"If we are 'jativadi' because we talk about those who are yet to taste the fruits of development, then, yes, we are 'jativadi'."
Mr Tejaswi Yadav accused the BJP and Mr Modi of defaming Bihar.
"Bihar was defamed in the name of 'jungle raj' by vested interests because the son of poor parents (Lalu Prasad) reached the top in politics and tried to empower the poor.
"What about Gujarat when over 1,000 people were killed in broad daylight over a month in 2002? When houses, shops and businesses of one community were targeted? Was that 'mangal raj'?
Even today, he argued, the crime figure of BJP-ruled Jharkhand, Madhya Pradesh, Rajasthan, Gujarat and Maharashtra is far worse than Bihar's.
Mr Tejaswi Yadav pointed out how periodically Pakistani flags were raised in Jammu and Kashmir, which is ruled by an alliance of the Peoples Democratic Party and the BJP.
"Is that not a good example of 'jungle raj'?
"Bihar has been defamed and given a bad name due to the campaign of the BJP.
"The BJP is to blame for lack of industries in Bihar. Its propaganda about so-called lawlessness has created an image of Bihar which is not the reality and discouraged private investors," the RJD leader added.