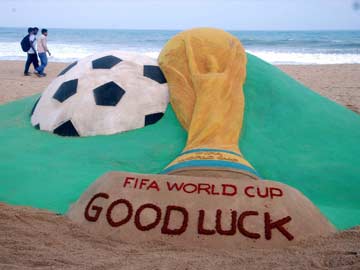 Bhubaneshwar:
Noted sand artist Sudarsan Pattnaik on Wednesday created sculptures, including a world cup trophy, in Odisha to mark the beginning of the football world cup in Brazil on Thursday.
Besides the trophy, Pattnaik created sand sculptures of a mini stadium with a football and on the opening match between Brazil and Croatia on the beach of Puri, about 55 km from here.
"World cup fever is everywhere. Though India is not playing in this world cup, still people are anxious to see the matches," Pattnaik told IANS. He said he used about 15 tonnes of sand and took seven hours to complete these sculptures.
Pattnaik, a recipient of the Padma Shri, has participated in more than 50 international sand sculpture championships and festivals across the world and has won many prizes.