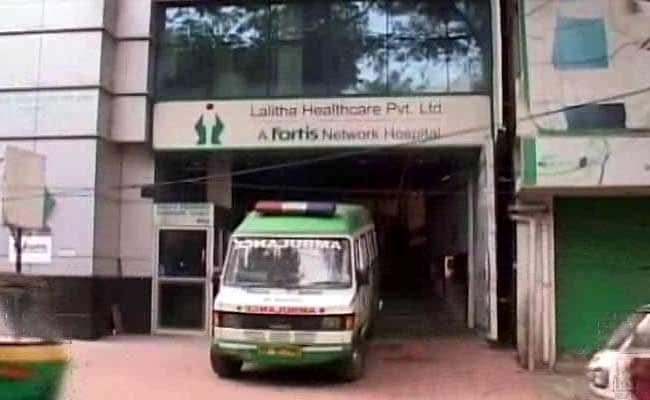 Highlights
Family says hospital conducted heart surgery on Vidya Prasad in 2010
But hospital lacked cardiac care unit, family says they weren't told
Consumer court fines 3 docs, hospital says matter 'sub judice'
In a landmark order, a consumer disputes redressal commission in Bengaluru has asked three doctors of Fortis Hospital to pay a compensation amounting to Rs 23.5 lakh to the family of a woman who died allegedly due to medical negligence.
According to the family, the hospital had conducted heart surgery on Vidya Prasad in 2010 despite lacking a specialized cardiac care unit, which led to her death. The hospital claimed the matter is "sub judice", since it is pending before the state medical council.
Mrs Prasad, 45, was operated on for a slip disc on 11 February, 2010 in Fortis Hospital, Sheshadripuram.
Her husband HNS Prasad says the doctor claimed she was doing fine after the operation. But hours later, he was told that her condition was deteriorating. She died before she could be shifted to a different hospital.
The next year, the family approached consumer court alleging negligence, after they came to know the hospital lacked a specialized cardiac unit.
The family claimed the pre-operation tests clearly mentioned a cardiac risk, but they were not told. When she developed cardiac complications, the hospital didn't even have a pace maker to install.
"They didn't tell us. We found a month later, when they had installed a cardiac care unit. Till then, they didn't have it, but still went ahead with the surgery," said the couple's daughter, Mridula.
In a statement, the hospital claimed, "The same subject matter is pending before the competent authority which is Karnataka Medical Council. The matter is sub judice".
The doctors have been given 8 weeks' time to pay. In case of non-payment, the petitioners can seek an execution order from the commission or the civil court. On their part, the doctors can approach the National Commission challenging the order.
In 2010, another branch of the same hospital was found guilty of negligence by the Lokayukta, which led to the death of a retired Army Major's wife. The Major had argued that the surgery involving transplantation of his wife's pancreas was carried out despite the hospital lacking a licence to perform transplantations. She did not survive the operation.