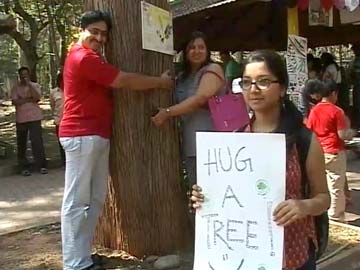 Bangalore:
It has been a long time since Bangalore was described as a garden city - with tree cover rapidly vanishing in the name of development and progress - otherwise known as construction and road widening. A group of people got together to put together a tree festival this weekend - to remind city dwellers of the treasure that they need to save. The venue, appropriately enough, was Cubbon Park. The name of the festival was Neralu, which means shade in Kannada.
One of the organisers, Shilpa said that the aim is, "Lot of awareness and celebrating the trees of Bangalore!"
An artist, Sadhvi, was helping people make artwork with objects like leaves, bamboo and other natural and found material. There was also music, dance, nature walks, films and storytelling.
There were games and riddles to teach children about common trees - but some of the youngsters were already well clued-in. One young girl told NDTV,"I would like to share a fact with you -if people had to make oxygen for six months for all human beings they would have to spend 38 trillion dollars! Trees do it for free so we have to respect them and save them."
A woman who attended said, "I grew up here in Bangalore and it is better to bring kids here than to a synthetic play area in a mall. Personally I am bad with plants! I have a brown thumb, not a green thumb. I hoped that being with trees and being part of nature would give some inspiration."
Social activist, Rohini Nilekani, was at the event and had helped to support it financially. She told NDTV,"I think it is a simple, scalable and beautiful idea. Bangalore needs to be restored to its glory and everyone needs to be involved in it. We are lucky we have a small neighbourhood. These are simple things that all of us can do that together means a lot for the city."
The entire event was crowd-funded with the help of the city's tree lovers.