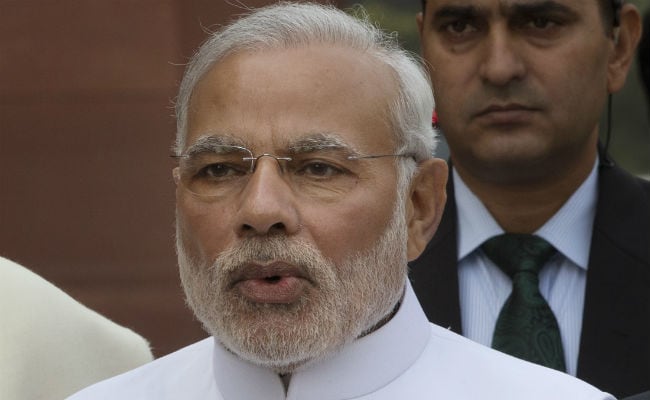 Chaibasa:
Development and stability were Prime Minister Narendra Modi's promise to Jharkhand on a day six under-developed, Naxal-hit districts of the state voted in the first phase of assembly elections.
Jharkhand had capacity to be "India's best state" due to its natural resources, the Prime Minister said, and those who had "nothing to show for 60 years' rule" had no right to ask the NDA government for a report card.
The Prime Minister addressed an rally in Chaibasa an hour before his departure for Kathmandu, where he is attending the SAARC Summit.
The BJP, which won 12 of the state's 14 Parliamentary seats in the general election in May, is hoping for a majority in Jharkhand, where the ruling alliance of the Congress and the Jharkhand Mukti Morcha broke up in October in the run-up to the elections.
Taking the Congress head-on, the Prime Minister said, "These people haven't done any work in 60 years, they've looted the country and they're asking me for my six-month report card. "The Congress accuses me of not working. I am willing to give the nation an account of everyday's work."
In an arch reference to the ruling government, he added, "As soon as polls arrive near, politicians start lying because they have no work to account for".
Reminding his audience that Jharkhand has more strength than MP, Maharashtra, Gujarat, he said, "All these people present here today want development. Modi is with you in the fight for your rights."
The tribals, he said, had always trusted the BJP, since "Many BJP Parliamentarians were from the adivasi community". Also, after 60 years of Congress rule, the tribal people know that "vote-bank politics and dynasty politics do not benefit them," he said.
Tribals form 27% of the population of the state, which has been known for its unstable politics. In the 13 years since its formation, Jharkhand has had nine governments and had been under President's Rule thrice.
The BJP, which has a tie-up with the All Jharkhand Students' Union (AJSU) and the Lok Janshakti Party - is contesting from 12 seats in the first phase. The five districts going to polls are Palamau, Gumla, Lohardaga, Chatra, Garhwa and Latehar.