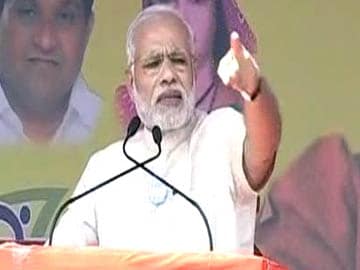 Dhule:
Prime Minister Narendra Modi today declared that "no one can break Maharashtra" while he's in power, responding to allegations by former ally Shiv Sena as well as the Congress that he wants to separate Mumbai from the state.
"Congress leaders have been spreading lies on cotton and onion for the last 10 years. They have started spreading a new lie. They say Maharashtra will be split. Has anyone been born in this country who can divide the land of Shivaji? I assure you that as long as I am in Delhi, no power in the world can split Maharashtra or separate Mumbai from Maharashtra," PM Modi said at a rally in Dhule.
At another rally in Jalgaon soon after, he underscored, "People who could not work for Maharashtra are indulging in false propaganda. They are saying Modi wants to take Mumbai away from Maharashtra. There is no one in India who can take Mumbai away from Maharashtra."
He made no reference to the Sena or its chief Uddhav Thackeray, who had said on Monday, "Modi is talking of developing the state, but on the pretext of development they actually want to break Maharashtra into pieces, but the people of the state would not tolerate such attempts."
Raj Thackeray, the chief of the Maharashtra Navnirman Sena, made a similar allegation as he told a newspaper, "Can you imagine a Prime Minister holding 23 rallies for the Maharashtra assembly polls? Why is he so focused on Maharashtra? There is a larger design behind this campaign. It is aimed at controlling the financial capital of India."
The Prime Minister's words today reflect an unusually strong stand against demands for a separate Vidarbha out of Maharashtra, which the BJP ideologically supports. State BJP chief Devendra Fadanvis has said the party supports demands for the creation of Vidarbha, but with a rider - it should not be like Telangana but should be based on socio-economic transformation.
Maharashtra votes for a new government on October 15. The results will be announced four days later.