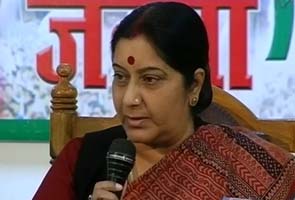 Bangalore:
With less than two weeks to go before Karnataka votes, the ruling Bharatiya Janata Party (BJP) today officially launched its election campaign with rallies by its national and state leaders across the state.
Senior BJP leader Sushma Swaraj held a rally in Bangalore, where she attacked opposition parties. She said the Congress had failed to stop corruption and terrorism and done little to make women more secure, and asked if Karnataka's voters wanted the same kind of government in the state.
BJP general secretary Ananth Kumar targeted Congress chief Sonia Gandhi for reading her speeches, saying: "Sushma Swaraj is a leader, not a reader."
Karnataka votes on May 5 and the BJP, rocked by scams and dissidence in its five-year rule, has a tough journey ahead.
There were doubts over the last five years whether its government in Karnataka would last its full term. The government survived - barely - but despite brave words from BJP leaders, getting enough seats to form a government again will be tough.
Among the BJP's election promises is providing rice at one rupee a kilogram to families below the poverty line. In the last elections, the party had offered rice at two rupees a kilogram but did not quite live up to the promise.
This isn't the only way the BJP failed to meet expectations. At the start of its innings, the party boosted its slender majority with 'Operation Lotus', wooing legislators from the opposition Congress and Janata Dal (Secular) - a move that was widely criticised.
There was more embarrassment as chief minister BS Yeddyurappa and several ministers were accused in mining, land and other scams. Mr Yeddyurappa was forced to step down, but the damage to the party's image was done.
S Prakash, BJP's spokesperson in Karnataka, insists the party unit has been cleansed since then. "The BJP will be focussing on its achievements and future plans. We have already released our manifesto, where we have assured rice for one rupee a kilogram and laptops and tablets for PUC students. I am sure our development agenda will take us to Vidhana Soudha again," he said.
The BJP faced dissidence over the years, and most recently from a rebellious Mr Yeddyurappa who quit the party. In fact, its biggest political challenge seemed to come from its own ranks.
While Mr Yeddyurappa's newly formed Karnataka Janata Party could eat into the BJP's Lingayat vote bank, the Congress is encouraged by its impressive performance in the recent urban body elections.
The BJP hopes that a campaign by Gujarat Chief Minister Narendra Modi later this month could brighten prospects. But it can in no way take for granted that it will hold on to the first south India state where it came to power.