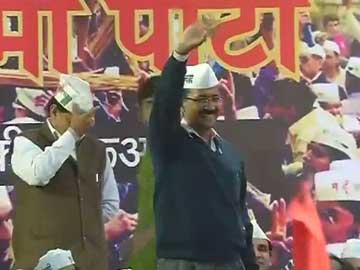 Gurgaon:
What do a pilot, a banker, a councillor, and a retired Air Force officer have in common? All are volunteers with the Aam Aadmi Party in Gurgaon. Elated with the stunning performance of the party which made its debut in the just-concluded assembly elections in Delhi, they are on a high and raring to go.
"Subconsciously, a lot of people want to get involved. Like in my family, everyone called me a mad man till December 8. Now they want to follow," Sanjay Gupta, a pilot, tells NDTV.
Having worked for the party during the polls in Delhi, they are now keen to replicate the model closer home in Gurgaon.
"Our civic issues are as bad as Delhi or actually even worse... People were just waiting for something like this, and we saw it in Delhi and I think Gurgaon is also ready for it," said Nisha Singh, an independent councillor.
AAP now wants to capitalise on the party's strong performance during the general elections which is barely six months away.
The surprise results, according to party workers, will make fence-sitters change their mind.
"Earlier people were not so sure that this party would be able to do something... Now, at least, people will have the courage to make themselves heard and will openly come forward to support this," said Balbir Singh, a retired warrant officer with the Indian Air Force.
"Now people are not saying 'Let politicians handle it, it's not our problem'. People are saying 'We will get it done.' That's empowerment", Vishal Garg, a manager with HSBC, says smilingly. "My friends are calling and saying '
dil khush kar diya... abhi yahan kuch karo!'"

The big gathering at Jantar Mantar in Delhi last evening was AAP's only official celebration. The party is already looking ahead, keen to secure the support of bureaucrats like Ashok Khemka from Haryana to strengthen its campaign as it starts preparing for 2014.