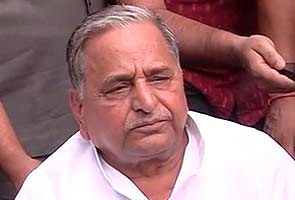 New Delhi/Lucknow:
Mulayam Singh Yadav, 72, will be Chief Minister of UP. Parkash Singh Badal, 84, will be the Chief Minister of Punjab. The Samajwadi Party is home in UP, leading now in 226 seats, well over the half way mark. In Punjab, the Shiromani Akali Dal has made history by becoming the first party in 40 years to beat the dreaded anti-incumbency factor and win back the state. Goa has gone the BJP's way, the Congress has won Manipur and the two parties are neck and neck in Uttarakhand.
(Assembly Elections 2012: Live Trends)
Assembly elections in 2012 were also about Rahul Gandhi's all-out effort to resurrect the party in Uttar Pradesh; the party turned up an indifferent showing gaining only six seats over its 2007 tally on 22 seats - it even lost Amethi in Rahul's Lok Sabha constituency. The Congress General Secretary drove to his mother's residence at 10 Janpath in the afternoon to say, "I led this campaign, I take responsibility." He said his party had underperformed as it was not organisationally strong, but he would continue to try and win UP one day. Rahul Gandhi also congratulated the SP on its big UP win, saying "the mood was clearly for SP."
(I take responsibility, says Rahul Gandhi about UP results)
Lucknow is the fief of the Yadavs today and Akhilesh Yadav, who attempted a successful image makeover for the SP, is the man of the moment. Underplaying his role, he said the entire SP had won the day together. He thanked the people for "believing in the SP...people across caste and community voted for the SP," he said. For his father, this will be a fourth term as Chief Minister. The dancing crowds, sea of red Gandhi caps and early Holi revelry outside the SP office in Lucknow tell that story; the deserted BSP office is a striking contrast.
(For Akhilesh Yadav, mission accomplished)
The day's biggest loser, Mayawati, is a poor second in UP, with her BSP well short of even 100 seats. In 2007, the BSP had 206 and became the first party since 1991 to get a majority on its own in UP. Today it may stop at 96, 110 seats less. Mayawati will meet the Governor any time now and is expected to resign. She has been assured by Akhilesh Yadav that her very expensive and massive stone elephants and statues erected in Ambedkar parks will not be demolished.
Punjab has a long tradition of voting out whoever is in power. The Shiromani Akali Dal has changed that statistic now - it has won 68 seats. It did this almost all on its own - Akali ally the BJP has lost significantly in Punjab. But Captain Amarinder Singh, who said yesterday that he was cooking the Akali goose, is having to eat his words. The Congress will end the day at about 46 seats in the 117-seat Assembly. Parkash Singh Badal and son Sukhbir thanked Punjab for returning them to power.
(Punjab jinx for parties ends with Akalis, they return to power)
National parties Congress and BJP have reason to be sheepish. They have won a state apiece in Manipur and Goa respectively. They are slugging it out for top honours in Uttarakhand - Congress has won 32, while BJP 31, both short of the halfway mark at 36, and but in neighbouring UP they are fighting for the number three and number four slot and both will finish shy of 50 seats. Both parties admit some introspection is called for. Both also say that the results are worse for the other.
The BJP is headed to a simple majority in Goa and will stake claim to form government. The Congress has lost Goa badly, but has kept Manipur.
Of the five states that voted, only Uttarakhand is yet to give a clear picture. The BJP and the Congress are neck and neck, with 31 seats each in the 70-seat Assembly. Independents and smaller parties will need to give one them the five seats needed to make it to majority at 36.