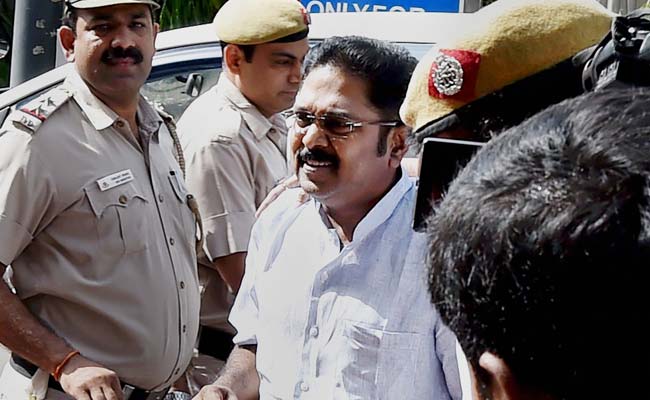 New Delhi:
AIADMK leader TTV Dinakaran, accused of attempting to bribe Election Commission officials, was on Monday sent to 14 days judicial custody by a court here.
Special Judge Poonam Chaudhary sent Mr Dinakaran, nephew of jailed AIADMK General Secretary VK Sasikala, to judicial custody till May 15 over the bribery allegations.
Mr Dinakaran is accused of trying to obtain a favourable verdict from the poll panel so that the now frozen "two leaves" party symbol could be restored to the AIADMK.
Mr Mallikarjuna, a long-time friend of Mr Dinakaran, who was arrested on April 25, was also remanded to judicial custody for a similar period.
The order came after the Delhi Police told the court that they did not require any further custodial interrogation of the accused.
Mr Dinakaran and Mr Mallikarjuna were presented before the court after expiry of their five days in police custody.
The court allowed Mr Dinakaran and Mr Mallikarjuna's plea seeking proceedings of the case through video-conference.
The court also extended judicial custody, till May 15, of a hawala operator from Delhi, Naresh Jain aka Nathu Singh.
Mr Dinakaran's aide Sukesh Chandrashekhar, who is in judicial custody till May 12, was arrested on April 16.
On April 25, Delhi Police Crime Branch arrested Mr Dinakaran for trying to pay Rs 50 crore in bribes to the poll officials through middleman Sukesh Chandrashekar to ensure the "two leaves" poll symbol was allotted to the AIADMK faction led by Ms Sasikala.