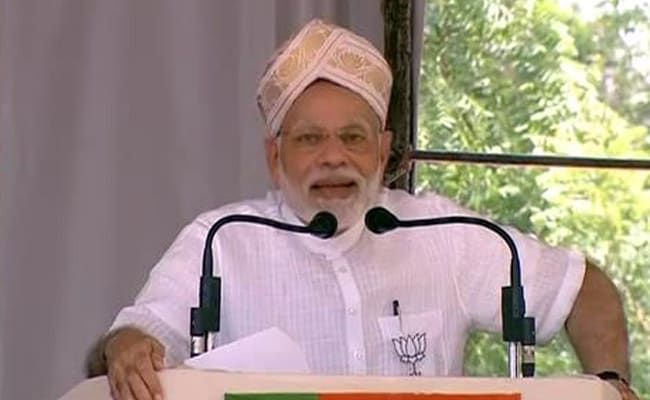 Bengaluru:
The assembly elections in Karnataka is meant not only to change the Congress government, but also the fate of farmers, future of youths and position of women, Prime Minister Narendra Modi said, focussing on the three sections of people the opposition has accused his government of neglecting.
PM Modi, who has extensive plans for the last stretch of campaigning, plans to address three more rallies. Back in the state after a day's gap, he started the day with a rally at Kalaburagi in north Karnataka.
Addressing thousands at the grounds of a local school, the Prime Minister accused the Congress of "insulting national heroes" and the Indian Army.
"Karnataka has a rich history of valour with immortal names like Field Marshall Cariappa and General Thimayya. But how Congress governments treated them is well recorded in history. In 1948 after defeating Pakistan, General Thimayya was insulted by then Prime Minister Jawaharlal Nehru and defence minister Krishna Menon," he said.
After the surgical strike, "our army chief was called a
goonda
by Congress," the Prime Minister said. "I want to ask you. In our country, has even an uneducated person called our brave soldiers
goondas
?"
With just 10 days to go before the elections, the Prime Minister is crisscrossing the state, hopping from one end to the other.
He also took on the Congress over its treatment of farmers. His government, he said, made important decisions on minimum support price for farmers whereas the Congress sat on the Swaminathan Commission recommendation to increase MSP for farmers.
Kalaburagi, he said, is known for the dal (pulses) it produces. "Our farmers are working hard here and availing of the benefits of the central government schemes. However, the Karnataka government is insensitive towards the condition of farmers," he added.
The farmers' issue has been one of the key issues on which the
Prime Minister and Congress chief Rahul Gandhi
have clashed. Yesterday, PM Modi had interacted with farmers through the NaMo app, where he underscored the need to convince farmers to vote for a government that is sensitive to their issues. Today, Mr Gandhi tweeted a report card on his government's handling of the agrarian crisis that gave him a "F" grade.
PM Modi started his campaign on May 1, with the first of the 15-plus rallies he is expected to address in the state. At the rallies - held in Chamarajanagara, Udupi and Belagavi -- he had extensively targeted Congress chief Rahul Gandhi.
He addresses two more rallies today. One is in Ballary in the east -- from where the party has fielded two of scam-tainted Reddy brothers - and another in north Bengaluru.