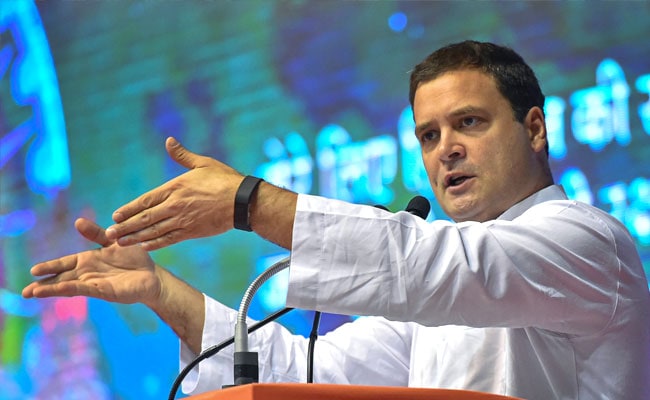 New Delhi:
Congress chief Rahul Gandhi tweeted a report card for Narendra Modi a day after the Prime Minister's big outreach effort to the farmers of Karnataka. Elections will be held in the state next week and both leaders are campaigning trail, with a string of rallies to address today.
Mr Gandhi started the day with an evaluation of PM Modi's performance on three counts. The grade PM Modi received was an "F". His tweet was accompanied by a chart that tried to establish how farmers were sustaining losses in cultivation of a dozen crops.
Mr Modi's Report Card

State: Karnataka
Sub: Agriculture

1. Contribution to Cong State Govts 8,500 Cr Farm Loan waiver = 0 Rs

2. PM's crop insurance scheme: Farmers suffer; pvt insurance companies make huge profits.

3. No MSP+50%, for Karnataka farmers.

Grade = F pic.twitter.com/SLJBE4cXWC

— Rahul Gandhi (@RahulGandhi) May 3, 2018
The ongoing countrywide agrarian crisis marked by numerous farmer suicides, has become politicized ahead of the assembly elections in Karnataka, which will be held on May 12. With a host of programmes and schemes, the government is battling an anti-farmer image which the Congress is trying hard to reinforce.
Yesterday, PM Modi held an interaction with the farmers of the BJP state cell, in which he elaborated on the government's plan to double the farmers' income by 2022.
But he also used the occasion to launch a scathing attack on the Congress, accusing the government of Chief Minister Siddaramaiah of being insensitive to farmers' plight, manipulating them and "playing politics" with them.
He also alleged that due to the apathy of the Siddaramaiah government, the state's farmers have been unable to benefit from the Central government's 'Fasal Bima Yojana' - a crop insurance scheme.
Mr Gandhi has repeatedly said that PM Modi came to power on three planks - jobs creation, rooting out corruption and agricultural reforms and failed to deliver on all three.
At a rally last week in Delhi, he had also claimed that the Congress will win not only the assembly election in Karnataka, but the next round of elections in
The 47-year-old Congress leader has recently told his party workers Chhattisgarh, Madhya Pradesh and Rajasthan and ultimately the general elections next year.