Highlights
By-election in Andhra's Nandyal on August 23
Chief Minister Naidu campaigns vs opposition leader Jaganmohan Reddy
Both exercise smear campaigns in prestige battle
Hyderabad:
At a press conference where, strangely, no television cameras were allowed, Chief Minister Chandrababu Naidu revealed that he believes that his rival, YSR Reddy, was a behind-the-scenes player in the assassination attempt that saw Naxals targeting his convoy in 2003.
No tape has surfaced yet of what exactly the Chief Minister said at the briefing yesterday. But on Facebook, his party carried a news article on his comments, suggesting they were accurately reported.
There is nothing mysterious about the timing of the Chief Minister's revelation. It comes ahead of a crucial election to the Andhra Pradesh legislature from the constituency of Nandyal, whose representative died in March.
The Chief Minister's accusations come after his main opponent, Jagan Mohan Reddy, said, while campaigning in Nandyal last week, that there would be nothing wrong if Mr Naidu "were to be shot dead on the road." After upbraiding by the Election Commission, Mr Reddy, who is the son of YSR Reddy, said he had "been carried away" by his emotions, which he blamed on the Chief Minister "betraying the people."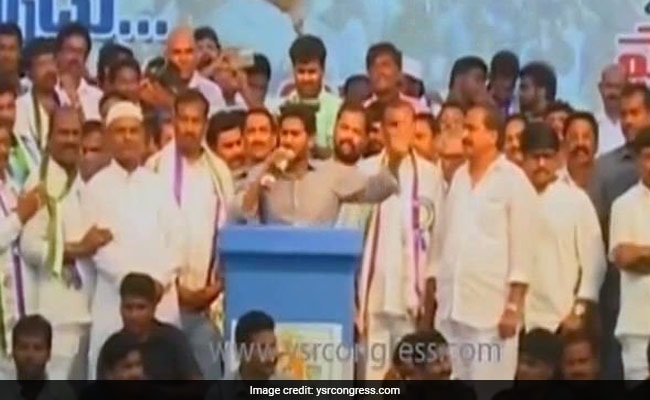 Basically, when they go low, we go high is not the mantra of the state's two biggest politicians ahead of the by-election on August 23. Bhuma Nagi Reddy, who died while in office, started out with Mr Reddy's party but switched to the Chief Minister's side after winning his election in May 2014.
Mr Naidu's party, the TDP, has 106 legislators including four from its ally, the BJP. Mr Reddy, who heads the main opposition party, had 67 legislators of whom 20 have switched to the winning side.
Mr Reddy's supporters are circulating an old video from last year in which his candidate (then with the Chief Minister's party) is seen pleading for funds to widen roads in Nandyal. The Chief Minister retorts on camera that there isn't enough money.
"He is making promises only so that he can get your votes," Mr Reddy warns the people of Nandyal at one public meeting after another about the Chief Minister's promises to provide better infrastructure and other facilities.
The Chief Minister's campaign has also over-heated on occasion. Twice, he snapped at questions put to him by voters. "You take pensions that we give you. You use the roads built by us. You take rations and other benefits, why should you not vote for us?" Those who asked about undelivered promises and schemes he billed as Mr Reddy's "lackeys."
Andhra Pradesh will vote next in 2019. Nandyal is not just a potential test of the Chief Minister's approval ratings, but a chance at revenge for Mr Reddy, who not only lost 20 legislators. Worse, one of them, Akhila Priya who is daughter of Bhuma Nagi Reddy and won from Allagadda on YSR Congress ticket, defected to the TDP and was made minister.
Mr Reddy has said that the result in Nandyal will also punish the Chief Minister for poaching. "He stole 20 of our MLAs. Why should I not call him a thief?'' he said recently, proving Nandyal is fertile territory for political landmines, at least till campaigning ends.