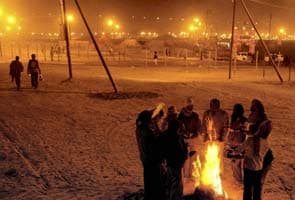 Lucknow:
Severe cold wave conditions has claimed 11 more lives across Uttar Pradesh in the past 24 hours, taking the toll this winter season to 140.
Official sources said today the chill claimed six lives in Barabanki, four in Sultanpur and one in Etah.
Maximum day temperatures in the state were below normal by 6 to 13 degree Celsius while the night temperatures fell in Gorakhpur and Varanasi divisions and were below normal in the state.
Lowest minimum temperature in the state was 0.3 degree Celsius recorded at Muzaffarnagar followed by Najibabad (Bijnore) 1.0 degree Celsius, Agra 1.1 degree Celsius, Ghazipur 1.5 degree Celsius, Lucknow 1.8 degree Celsius, Gorakhpur 2.4 degree Celsius and Kanpur 2.7 degree Celsius.
Local Met officials said that dry and foggy conditions would prevail over many parts of the state in the next 48 hours.